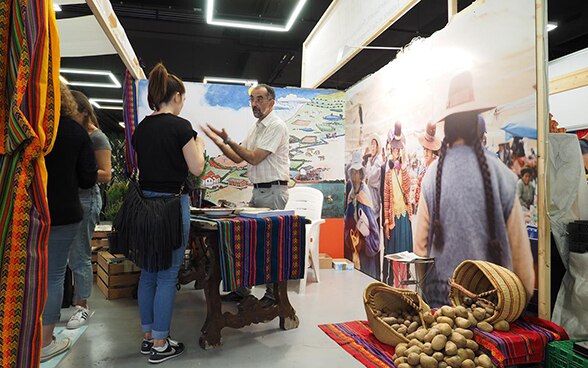 World cuisine gives us a taste of the SDC's work around the globe. At the next Comptoir Suisse in Lausanne, the Swiss Agency for Development and Cooperation (SDC) will offer visitors typical culinary specialities from the countries where it works to improve living conditions for local people.
Under the title "Saveurs d'ailleurs. L'engagement de la DDC aux côtés des paysans du monde" ("World cuisine. The SDC's commitment to the world's smallholders"), the SDC's exhibition at the Comptoir Suisse in Lausanne will provide an interactive taste experience. In an area covering 150m2, visitors will be invited to take a cultural journey through half a dozen countries where the SDC supports the work of smallholder farmers. Travel is also synonymous with tasting delicious locally grown produce, which invites people to talk to one another.
The exhibition will demonstrate how environmentally friendly farming can help fight poverty and hunger. There are many factors that affect food production. In Benin, the SDC backs a project that helps smallholders protect their corn from the devastating impact of insect damage. In Laos, the SDC works with rice farmers and the relevant authorities to support crop biodiversity. In Kosovo, market gardeners are shown how to process and preserve their produce – two activities that generate employment. In Peru, the SDC funds several initiatives among Andean agricultural and cattle farmers to raise awareness of climate change and the adaptation measures that will be needed.
At present, more workers are employed in farming than in any other sector worldwide, which comprises 70% of people living in poverty. That is why the SDC and its partners have devoted themselves to this cause.
Basic skills are key
Any smallholder who wishes to move beyond subsistence farming needs to find a way to harness potential and sell their crops on the market. The SDC can help to create new opportunities through its many contacts in the countries where it is present. Each farmer's basic skills, such as reading, writing, arithmetic and learning the national language, are also critical factors. The SDC's exhibition space at Comptoir Suisse in Lausanne will demonstrate how the SDC is working to provide basic education and quality vocational training to as many people as possible.