"Emna Rumantscha" – the first Romansh Language Week
"Rumantsch: in ferm toc Svizra" (Romansh: an essential part of Switzerland) is the slogan for the FDFA's first international Romansh Language Week. In conjunction with the Canton of Graubünden and Radiotelevisiun Svizra Rumantscha (RTR), the FDFA and its representations abroad invite you to learn more about Romansh language and culture through an online kick-off event devoted to Switzerland's fourth national language.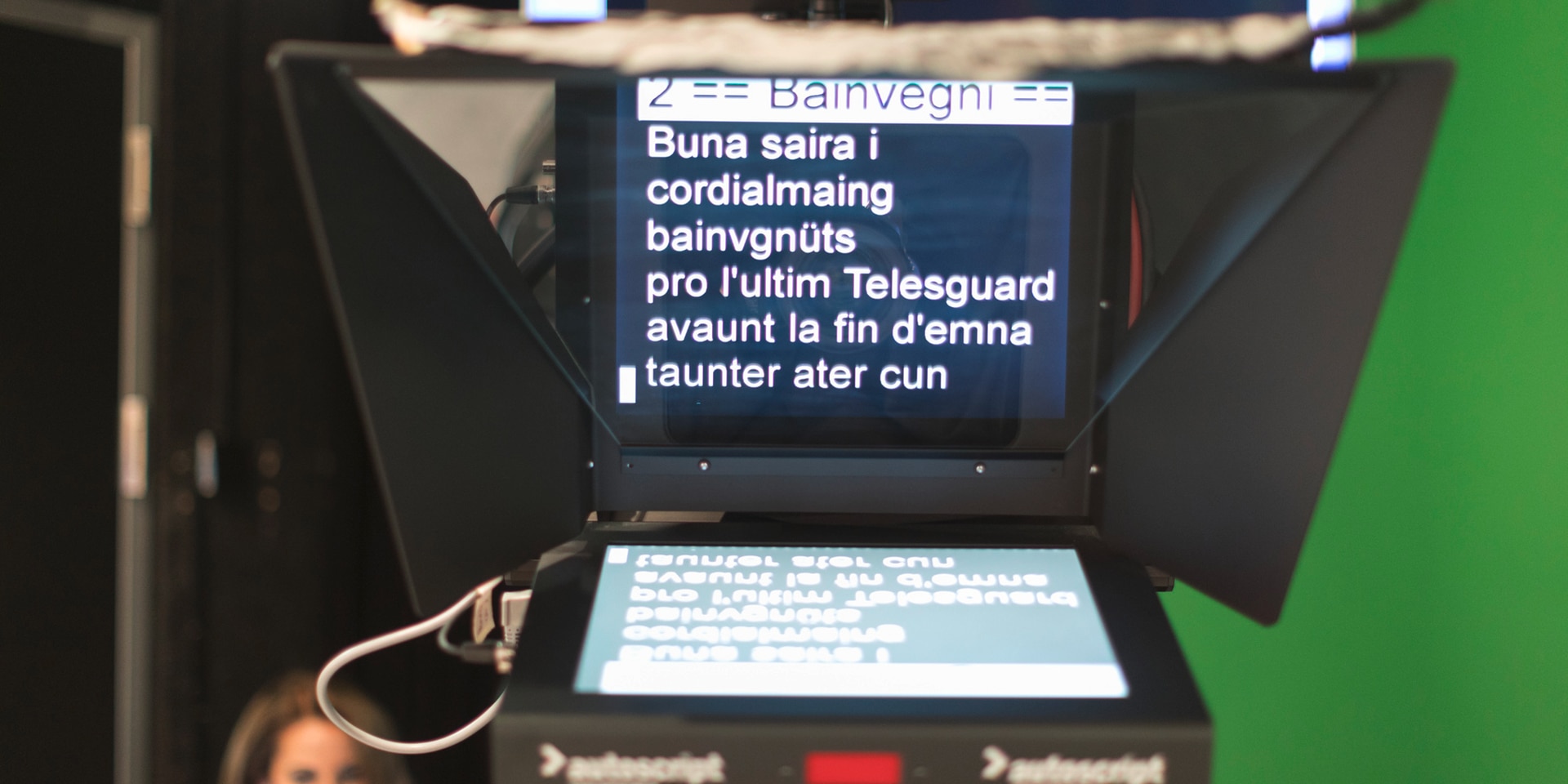 Romansh, Switzerland's fourth national language, is spoken by around 60,000 people and has its own public service channel, Radiotelevisiun Svizra Rumantscha. © Keystone
Bun di, bund de, bien di, bùn gi, allegra! There are at least five different ways to say hello in Romansh. This language officially became a national language in Switzerland, alongside German, French and Italian, on 20 February 1938. The FDFA has chosen this symbolic date to launch the first Romansh Language Week (Emna Rumantscha), in addition to Plurilingualism Week and the activities organised during Italian Language Week and French Language Week. These events underline the importance of plurilingualism for national cohesion, but also for opening up to the outside world.
The idea for "Emna da la lingua rumantscha" dates back two years, to the 100th anniversary of the Lia Rumantscha (an organisation that promotes Romansh language and culture) in Zuoz. This project has been strongly supported by Federal Councillor Ignazio Cassis and was the result of collaboration between a number of actors in Switzerland and abroad.
Online event: one programme, many voices
Why is Romansh "in ferm toc Svizra"? People in Bern, Romansh-speaking Switzerland and elsewhere in the world will answer this question in an online discussion on 19 February 2021. Federal Councillor Ignazio Cassis and Mario Cavigelli, President of the Graubünden Cantonal Council, talk to pupils from Glion secondary school – true ambassadors of the Romansh language in Switzerland. The wide-ranging discussion, moderated by Fabia Caduff, feature also Graubünden Cantonal Councillor Jon Domenic Parolini (Department of Education, Culture and Environmental Protection), Giuanna Caviezel (Federal Chancellery), Gianna Olinda Cadonau (Lia Rumantscha) and Rico Valär (University of Zurich). Other participants include Ambassador Chasper Sarott, in Madagascar, and Aita Pult, Head of Culture, Education and Science at the Swiss consulate in New York. 
Contribution of Swiss representations abroad
Romansh speakers and stories, interviews, language courses, readings, videos and virtual meetings. Switzerland's representations abroad have been taking steps to promote knowledge of the Romansh language and culture in their respective countries within the limits of the conditions imposed by the COVID-19 pandemic. "Our country is composed of a multitude of identities and cultures living together in harmony. And Romansh is a key ingredient of that melting pot. Plurilingualism and diversity are both a challenge and an asset: they teach us to resolve conflicts through dialogue, a Swiss quality that is in great demand throughout the world," says Cassis. 
Romansh speakers and stories
"The National Languages are German, French, Italian, and Romansh." So says Article 4 of the Swiss Constitution. No matter that Romansh is spoken by only 0.5% of the population, according to the latest official figures. There is no hierarchy among Switzerland's national languages. There is much to discover and learn about Romansh. For starters, Romansh has five varieties – Vallader, Puter, Sursilvan, Sutsilvan and Surmiran – each of which is spoken, written, boasts a long literary tradition and has its own grammar and vocabulary. There is also a standardised written language, Rumantsch Grischun, which is now used by the federal government for such things as the documentation in ballot envelopes. Romansh rings loud and clear onstage, in rap music heard round the world, on news stations, in classrooms and in Parliament.
Together with Mario Caviezel (history teacher), Annina Sedlacek (actress), Gino Clavuot (musician, alias Snook), Fabia Caduff (journalist) and Chasper Sarott (Swiss ambassador to Madagascar), we rediscover the richness of the country's fourth national language, at the crossroads of tradition and innovation.
The FDFA, plurilingualism and intercultural dialogue
The promotion of minority languages in Switzerland is part of the structured, ongoing political dialogue that the head of the FDFA is conducting with the cantons of Graubünden and Ticino. The FDFA strives to achieve the right linguistic balance among its employees. Within the department, 19 employees (or 0.8% of the workforce in FDFA) can speak Romansh.
Switzerland has around 170 representations around the world which employ some 2,300 local staff. The variety of languages spoken, in addition to the Swiss national languages, is enormous, which puts the promotion of intercultural dialogue right at the heart of Swiss diplomacy.