Ephemeral art for lasting peace
Saype, a French artist living in the Swiss Jura, creates giant paintings out of grass and sand to call for world peace. Saype's eco-friendly grass paintings, like the one currently at the United Nations in New York, pop up and perish around the world in the space of a few days. The latest painting, which Federal Councillor Ignazio Cassis presented to UN Secretary-General António Guterres, stands for the joint effort to create a future for everyone.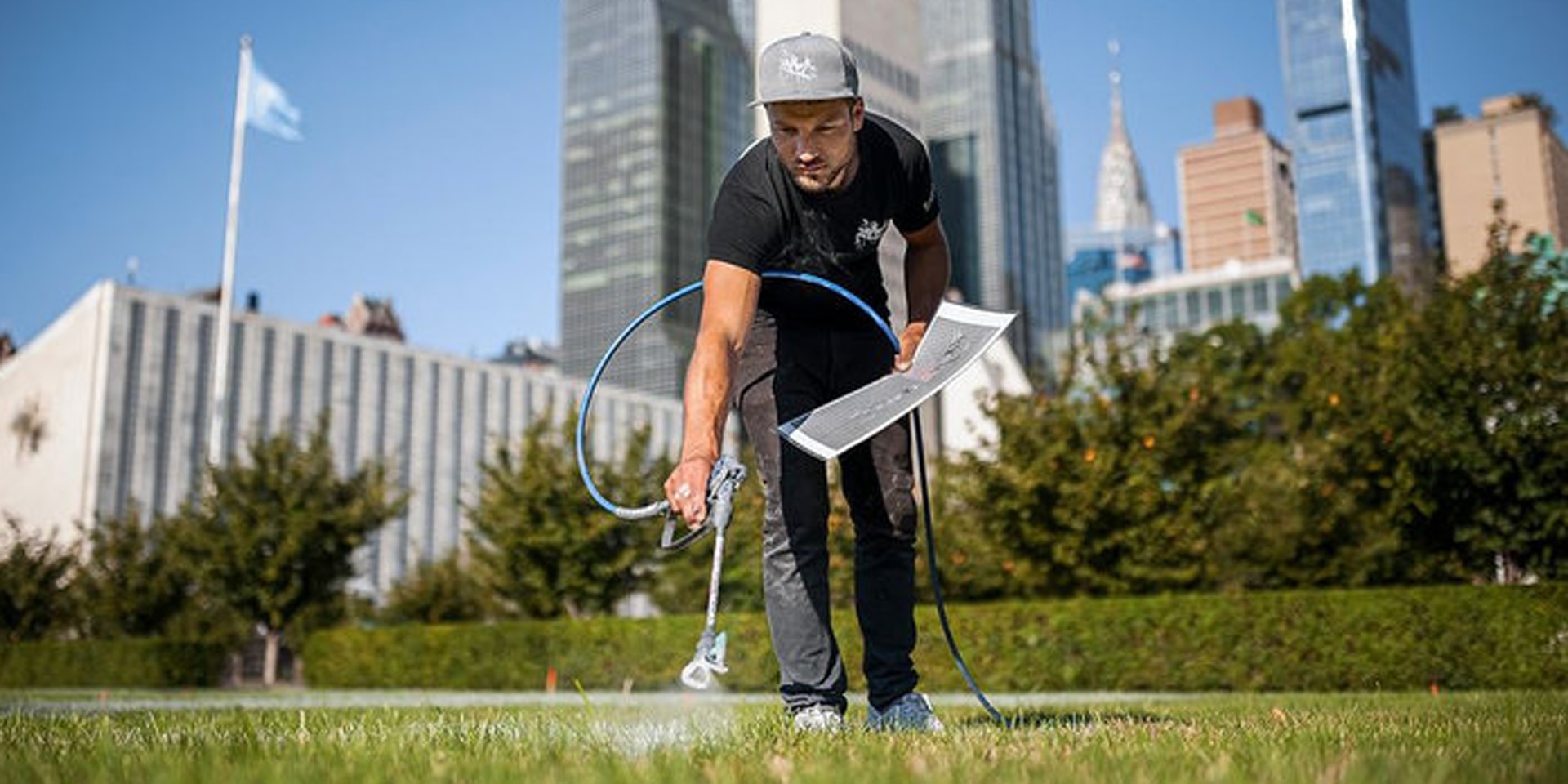 For the start of the 76th UN General Assembly in New York Saype realizes a grass painting as a symbol for peace and international understanding. © Valentin Flauraud pour Saype
In the run-up to the United Nations (UN) General Assembly, Guillaume Legros, alias Saype, is spray-painting a giant image with charcoal and chalk on the lawn in the park of the UN in New York. It shows two children playing. Federal Councillor Ignazio Cassis hands over the artwork to UN Secretary-General António Guterres on September 18, 2021, as a sign of Switzerland's commitment to peace and multilateralism. With this gift, Switzerland also reaffirms its candidacy for a seat on the UN Security Council for the years 2023 and 2024. 
FDFA Communication spoke to the Swiss-based artist, Saype, before he left for New York.
You're going to New York in a few days to paint in the park of the UN building. How did the project come about?
The 6,000 square metre grass painting 'World in Progress' in the park of the Palais des Nations in Geneva in June 2020 was the first part of a larger project supported by the FDFA, specifically Presence Switzerland. I was invited by the UN to New York to realise the second part.
After Geneva, this is the second time you have made art for the UN. What connects you with the UN?
Through my work I promote values such as peace and solidarity, and these are values I share with the UN. I see the UN as a kind of round table that brings all states together to find shared solutions to the world's problems. This idea of solidarity and working together to create a peaceful world is what I'm trying to symbolically represent in my current project 'Beyond Walls'. In 'Beyond Walls' I'm creating a global work that depicts interlocking hands stretching around the world to form a giant chain.
It's quite an undertaking to realise such a giant – and temporary – land art painting.
Yes, we've been hard at work on this New York project for a year and a half. You need a lot of people's permission and a great deal of material. It's a lot of organisation and admin.  Luckily I had my team to help me and the support of several people from Presence Switzerland. It's a lot of work but I'm really happy to have the opportunity to go to New York and realise my grass painting in the park at the UN.
Federal Councillor Ignazio Cassis will present your work to UN Secretary-General António Guterres in New York. How do you feel about that?
I'm very honoured and proud that I can contribute through my art to strong relations between countries, to peace and goodwill. It's an amazing chance to be able – for the second time – to create an artwork at the UN. That Federal Councillor Ignazio Cassis will gift my work to António Guterres feels very symbolic.
What message are you trying to convey through your giant grass paintings?
Firstly, it's a humanistic message. My art is meant to trigger constructive dialogue about creating a peaceful world together in solidarity with one another. But it's also about the environment. By painting with biodegradable charcoal and chalk on grass and sand, I'm asking people to look after their natural environment.
I believe that art moves people and can change a society.
Saype
Art is unique because it resonates with people's emotions. I'll give you an example. In 2018, I supported the Swiss organisation SOS Méditerranée, which is working to address the issue of refugees in the Mediterranean. I realised a project in Geneva called 'Message From Future' – a girl launching a paper boat onto the lake from the shore. The work had a huge impact in the media – the response was so overwhelming that it even changed some things in Swiss politics. 
How do you choose the locations for your land art works?
I ask myself what story I want to tell, and draw on the beauty, the history and symbolism of the place, and combine these in my painting. That's what is special about land art. For example in Benin I painted on the beach where historically 14 million slaves were taken away by ship.
How did you come to choose this art form, was there any key moment in your personal life?
Not really, it came about little by little. I started out spraying graffiti on walls and then painted a lot in my studio. The desire to paint in nature on grass and fields developed out of my readings on Buddhism and ecology. I was living in France at the time in a house surrounded by vast open fields. In 2012, drones became accessible to anybody, which allowed me to see the landscape from above. All this started me off developing a paint that was suitable for grass painting and wouldn't be harmful for the environment. Coming up with an environmentally-friendly paint took years of research and development.
Saype
Guillaume Legros aka Saype was born on 17 February 1989 in Belfort, France, not far from the Swiss border. He created his first graffiti as a teenager under the pseudonym SAYPE – SAY PEACE. Ten years ago he came to Switzerland to work as a qualified nurse. A passionate self-taught artist, he taught himself numerous painting techniques early on, and developed a biodegradable paint in 2013. Today he is an internationally renowned artist and cultural figure and a pioneer of grass painting. He still lives in Switzerland, in the Jura.
Works
2016 Qu'est-ce qu'un grand homme? in Leysin
2018 Message From Future
2019 Launch of the Beyond Walls project in Paris
2020 Beyond Crisis in Leysin
2020 World in Progress at the UN in Geneva