"Mutual trust and communication are our team's driving force"
Swiss Humanitarian Aid has completed its emergency response mission in Beirut. Claude Wandeler, deputy head of the "Middle East and North Africa – Humanitarian"-Division (MENA-H), talks about his role as team leader and coordinator on the ground of the first Swiss teams sent to Beirut after the explosion. He highlights the complementarity between the emergency response and Switzerland's existing cooperation projects in the region.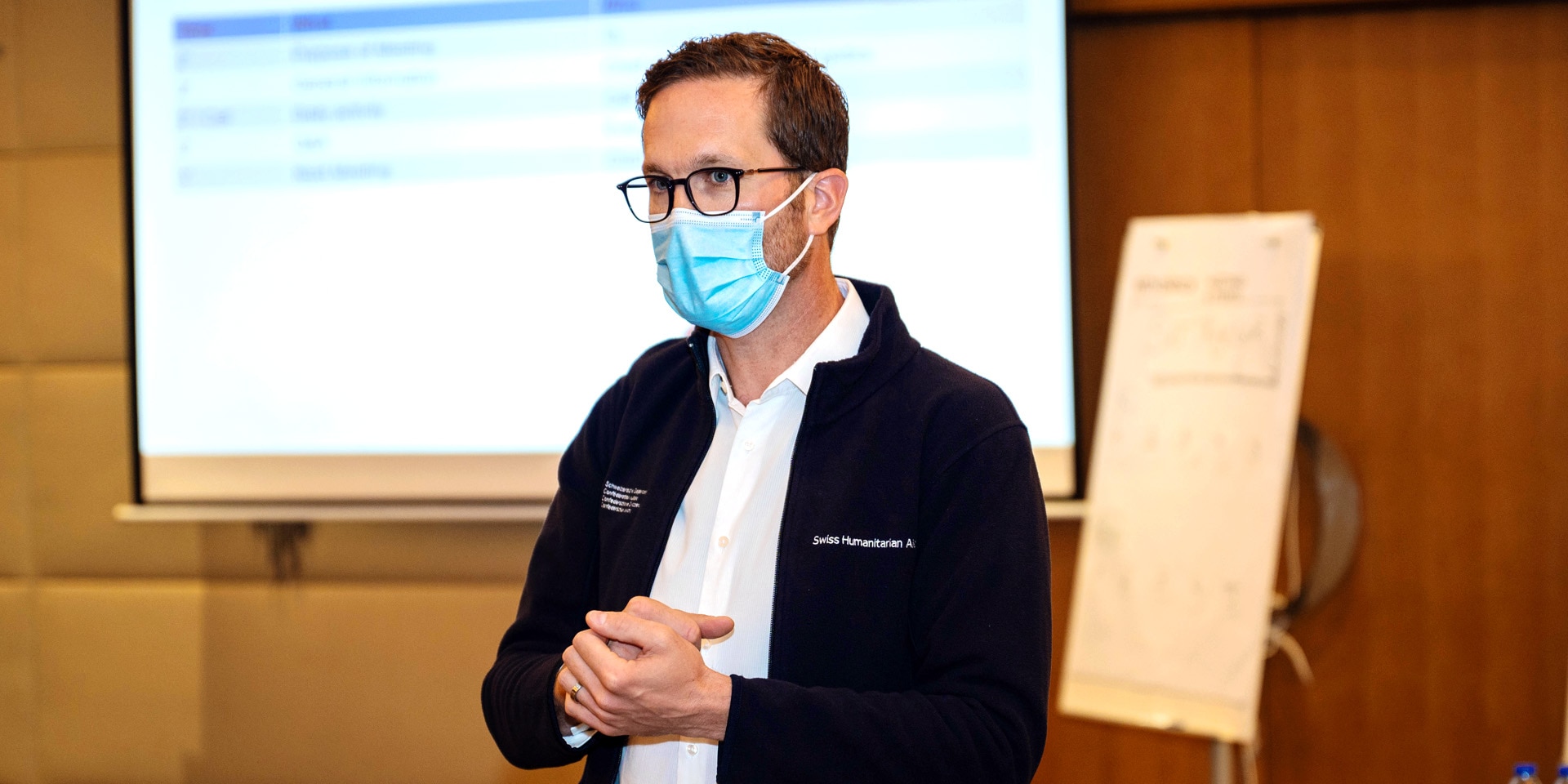 As team leader, Claude Wandeler coordinated the actions of the first humanitarian aid teams sent to the Lebanese capital after the explosion in Beirut. © FDFA
You headed the first Swiss emergency response teams sent to Beirut after the explosion. How did you prepare for this role?
Every mission is different and you never know what you're going to find on the ground, which is why our response has to be flexible. In my case, however, Lebanon was not an unknown territory: as deputy head of the MENA-Humanitarian-Division, which works closely with the Swiss cooperation office and embassy in Beirut, I had been well briefed before leaving Switzerland and also had the benefit of my previous experience working for Swiss Humanitarian Aid and for an NGO in the field.
When choosing a team leader, it's important to consider their profile and previous experience. Swiss Humanitarian Aid also organises training courses for all candidates for such deployments.
Separate teams specialising in different areas were deployed in Beirut: construction, health, security, logistics and communication. How do you coordinate work across such a wide range of areas?
It was not just a matter of coordinating the work of teams with different areas of specialisation but also with different remits, some providing support for the embassy and others emergency humanitarian assistance to the population. Every team presented its own management challenges. The teams we deploy are made up of people who've never worked together before and who suddenly find themselves having to work as a team in a new environment: it's therefore essential for all team members and the person in charge of coordinating the mission to be open and supportive and to have confidence in one another.
Sharing information is also key. Our base of operations in Beirut was in a hotel. Having everyone under one roof made communication a lot easier. We sprang into action in Beirut as soon as we got there. The 15-minute briefing we had every morning was essential, as it allowed each team leader to provide a summary of their team's tasks and objectives. The debriefing in the evening was equally important. In this way, information was shared among everyone involved as we set to work each day. Trust, sharing and flexibility are key to pulling in the same direction and providing effective assistance.
How does this sort of emergency relief operation tie in with Switzerland's international cooperation projects in the region?
Our cooperation programme for the MENA region, which is a priority for Suisse cooperation, focuses on the consequences of the Syrian conflict in Syria itself as well as in Lebanon, Jordan, Iraq and Turkey. The dynamics of an emergency situation such as this one are very different in terms of the people affected, their needs, and how quickly we have to respond.
That said, some approaches used in the cooperation programmes already under way can prove useful in emergency situations. Our relief efforts in Beirut focused on the healthcare sectors, which lie outside the scope of our existing programmes, as there was an urgent need for assistance in these areas and Switzerland was able to provide added value. We also provided assistance in the education sector, an area we've been working in for some time in the region. Since the explosion, we've rehabilitated 19 public schools in Lebanon. We plan to step up our programmes' work on the issue of access to education, not only for refugees but also for the Lebanese people, to ensure that the quality of education and the school environment support children's cognitive development. Given the synergies between this relief work and the work carried out by our colleagues in the Swiss cooperation office, it's essential that we coordinate our efforts.
The humanitarian aid provided by a country like Switzerland has to be neutral and impartial. How did you negotiate with the authorities on the ground?
Helping the most vulnerable is our most important job. This priority is our starting point in our negotiations with the authorities, for whom the most vulnerable must also be the first priority. As a general rule, we respond to official requests for assistance. In this case, we received a note verbale from the Lebanese embassy in Switzerland, to which we immediately sent a formal reply. There are also more informal communication channels on the ground which allow us to gather information and to contact the various ministries and make sure we have their support.
The local authorities also have an important role to play, for example when it comes to securing permits to assess the structural integrity of buildings. We also coordinate our efforts with other countries and international organisations present on the ground to ensure that work isn't being duplicated. Having a cooperation office in Beirut proved essential and greatly facilitated our operations.
Trust, sharing and flexibility are key to pulling in the same direction and providing effective assistance.
Knowing the inner workings of head office in Bern is just as important: how smooth was the communication between Bern and Beirut?
From Beirut, I was working with colleagues in Bern whose offices are right next to mine. Every day, we had a virtual meeting with the Operational Control Group, which is responsible for coordinating efforts and making decisions. We were also constantly on the phone with colleagues in Bern asking them for advice and informing them what we planned to do next to stay one step ahead of decisions. Official decisions endorsing what we'd discussed directly and informally followed.
The explosion has exacerbated the economic crisis, the government crisis and the pandemic in Lebanon. How do you gather information on what's happening in the region?
We have a desk officer in the MENA Division who works specifically on Lebanon. In an emergency situation, information has to reach the right person at the right time: in addition to the general assessments carried out by head office, the on-site assessments carried out by the embassy and the cooperation office in Beirut are essential to gain a granular understanding of what's happening on the ground, which is what allows us to operate effectively.
Whenever an emergency occurs, a dedicated crisis unit is activated to manage operations. The MENA-Division supports the crisis unit. Once the emergency response mission is completed, the Division resumes its role as the main point of reference for the projects and activities carried out in the region.