Climate change as a security risk
In his first statement to the UN Security Council, Federal Councillor Ignazio Cassis, head of the Federal Department of Foreign Affairs (FDFA), speaks about the impact of climate change on peace and international security. In an open debate of the UN Security Council, Cassis explains what Switzerland is doing to help prevent conflicts and why cross-sectoral cooperation is vitally important in the fight against climate change.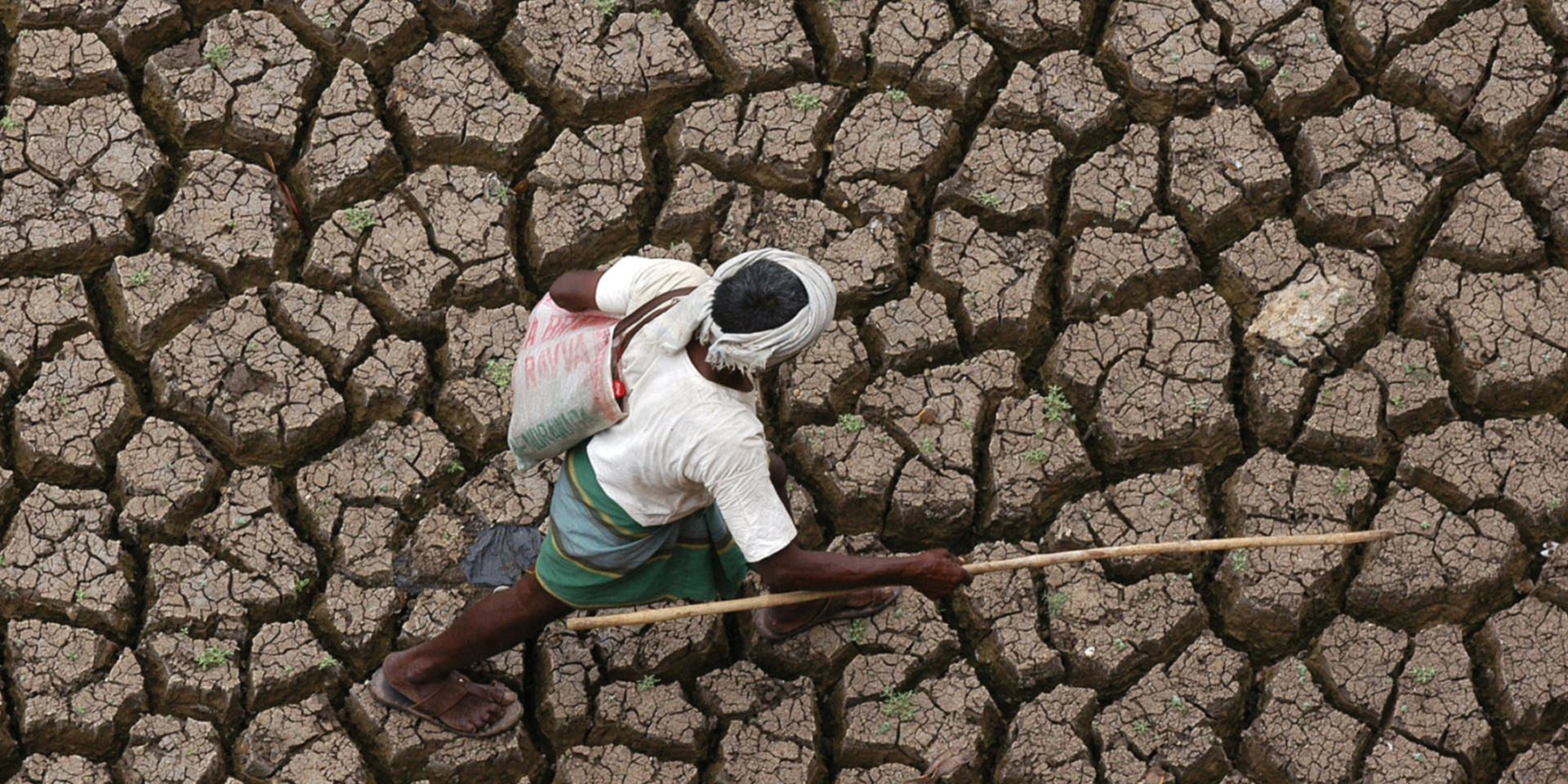 The direct impacts of climate change, such as droughts and regional water scarcity, hold great potential for conflict and pose a threat to local communities and international security. © Keystone
The impacts of climate know no geographical boundaries. They affect people around the world and are felt particularly keenly where livelihoods are seriously threatened. At the same time, extreme weather events, droughts, water and food shortages and rising sea levels are exacerbating numerous conflicts in different regions of the world, thereby threatening global peace, security and stability. Addressing global security issues therefore also requires tackling climate change.
Climate change directly impacts international peace
The security implications of climate change are also discussed in the UN Security Council. The United Nations body that debates key issues around global security and peace policy held a virtual meeting on 23 February 2021, under the chairmanship of British Prime Minister Boris Johnson, to discuss the impact of climate change on international security.

During this debate, which was open to non-UN Security Council members, Federal Councillor Ignazio Cassis spoke by video about the importance of joint efforts to combat climate change: "Climate change has profound implications for international peace and security. Its consequences can cause conflicts and exacerbate existing conflicts," said Cassis.
First Sub-Saharan Africa Strategy signals long-term cooperation
This was Federal Councillor Ignazio Cassis' first statement to the Security Council. When the COVID-19 pandemic broke out, the UN Security Council required non-members to submit their contributions in writing. This is the first debate where they have been given the opportunity to participate by video recording. In his statement, Mr Cassis also spoke about Switzerland's candidacy for a non-permanent seat on the Security Council.
Mr Cassis returned a couple of weeks ago from a six-day trip to Algeria, Mali, Senegal and The Gambia. "During my trip, I saw the effects of climate change with my own eyes. In the Sahel region, for example, temperatures are rising faster than the global average," explained Cassis. This makes it all the more important that countries not be left to fend for themselves in addressing today's fundamental challenges. The FDFA has recently published Switzerland's new Sub-Saharan Africa Strategy. "With this strategy, our country reaffirms the growing importance of the African continent in all its diversity."
Prevention and innovation to head off potential future conflicts
In West Africa in particular, but also in the Middle East and Central Asia, competition for water and water scarcity hold great potential for conflict, and climate change is exacerbating the issue. One of the instruments Switzerland is employing to help defuse potential conflicts is water diplomacy – the Blue Peace Initiative – aimed at ensuring the equitable and sustainable use of water resources. "Good joint management of water resources reduces tensions and promotes stable relations between states," stressed Cassis

Switzerland also promotes the use of modern technologies to achieve this objective. Under the 'Tech4Good' banner, Switzerland's international cooperation programmes promote, develop and support projects that use new technologies worldwide to generate added value for businesses, the environment and above all for people.

Swiss expertise in modern technologies thus brings long-term improvements to the lives of millions of people, not only through climate change mitigation, but also in areas such as agricultural technology, healthcare, disaster resilience and the construction sector. By laying the foundations for sustainable livelihoods for people in conflict regions, Switzerland is actively contributing to global stability.
Switzerland's candidature for the UN Security Council
Twenty years after joining the UN, Switzerland is seeking its first non-permanent mandate on the UN Security Council for a two-year term. The Federal Council approved the candidature and made its submission in 2011 after extensive consultations with Parliament. Since then, the decision has been repeatedly confirmed by both the Federal Council and Parliament. The election for the term from 1.1.2023 to 31.12.2024 will be held by the UN General Assembly with its 193 member states in New York in June 2022. (more on Switzerland's candidature)