Geneva: sharing expertise to benefit the digital French-speaking world
Over fifty per cent of international talks on digital governance take place in Geneva. As a humanitarian capital, Geneva also has a vibrant ecosystem around multilateralism and is thus well placed to address the challenges of digitalisation. President of the Swiss Confederation Ignazio Cassis is bringing this experience to the 18th Summit of La Francophonie to be held in Djerba.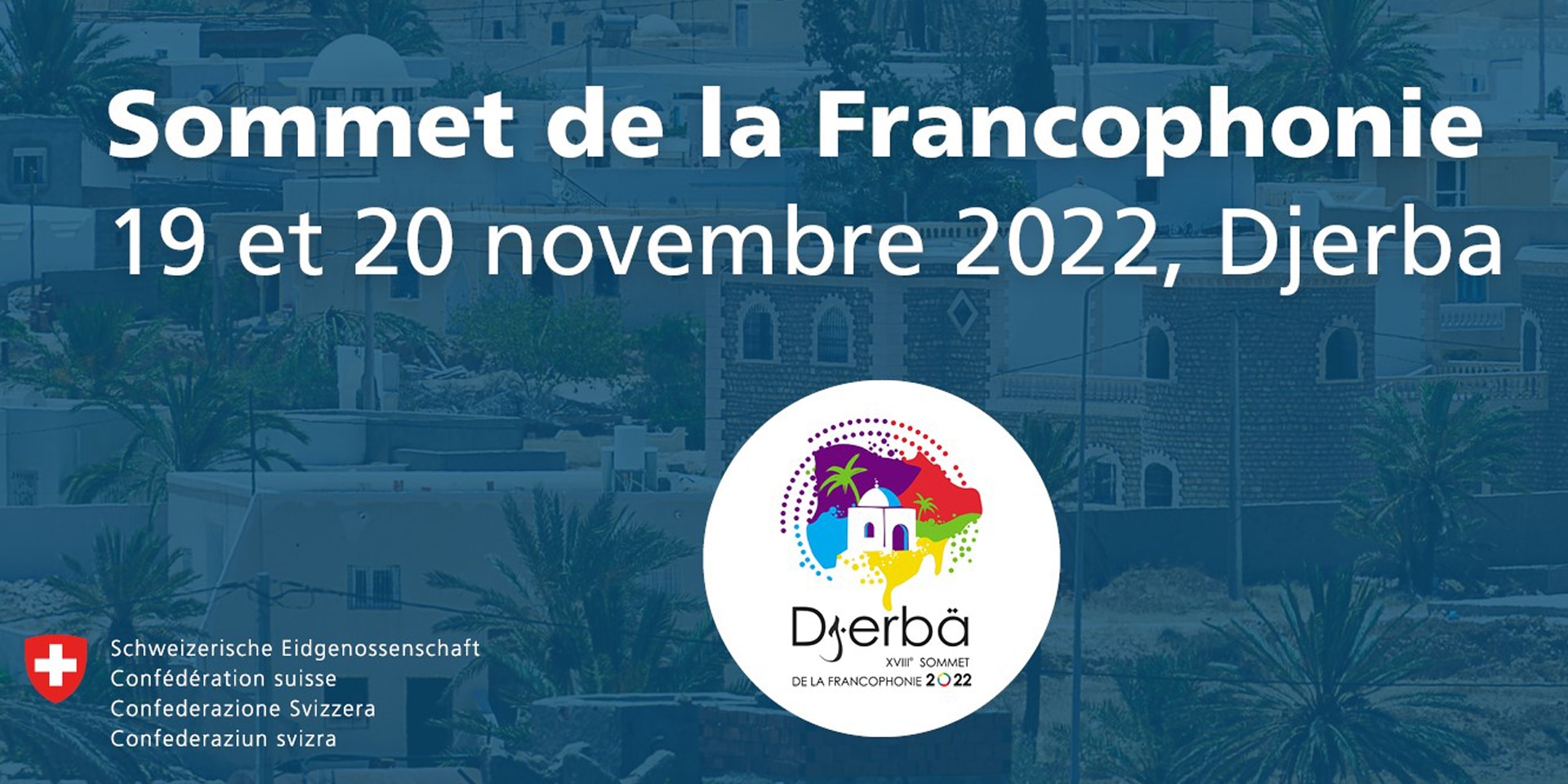 Connectivity is at the heart of the discussions at this Summit, focusing on digital technology as a "vector for development and solidarity in the Francophone space". © Federal Chancellery
In the early 2000s, who could have imagined that the internet would play such a huge role in our daily lives? Perhaps the more prescient among us. Could anyone have imagined that the new technology would bring its own set of challenges? Undoubtedly. Back in 2003 when International Geneva hosted the first phase of the World Summit on the Information Society, Switzerland pledged to narrow the digital divide, or the unequal access to information and communications technologies. Since then, International Geneva has become a byword for digital governance across the globe and especially in French-speaking countries, which have their own distinctive features and sets of challenges. 
Geneva: a reference point for digital Francophonie
Although French is the fourth most widely used language on the internet, there is no such thing as a French-speaking digital space – the internet is a global system. But as well as a common language, French-speaking member countries of the International Organisation of La Francophonie (IOF) share similar values and challenges in addressing digital issues. The 18th Summit of La Francophonie, which opens in Djerba today and will be attended by Mr Cassis, will provide a forum for addressing these shared concerns. This high-level meeting, which will address digital technology as a vehicle for development and solidarity in the French-speaking sphere, is in line with the 2022–26 Digital Francophonie Strategy adopted by the IOF in December 2021. 
Countries and governments in the French-speaking world (...) promote the development of a framework and an environment for harnessing digital technology to achieve greater inclusivity and advances in human, social and economic development within the French-speaking community.
Digital Francophonie Strategy 2022–26
Yet reality has fallen short of this ideal. According to a study commissioned by the FDFA's Africa and Francophonie Division digital transformation in Africa is lagging behind. Internet penetration in Africa is still lower than in other parts of the world. Plans are now afoot to adopt policies that promote digital technologies as drivers of inclusive development. Major efforts are also under way to give Africa a greater say in global digital governance. 
What does digital Francophonie mean for Switzerland?
Digital technologies will therefore feature highly at the 18th Summit of La Francophonie. Mr Cassis is bringing Switzerland's expertise and the experience gained in International Geneva to Djerba. Digital governance – a key priority under Switzerland's Foreign Policy Strategy – will also be discussed. The summit will provide an opportunity to strengthen cooperation between countries and ensure that all key actors are involved.
In discussing the future of La Francophonie, Mr Cassis and his counterparts will focus, for example, on how to move digital issues further up the political agenda, develop strategies to leverage international governance, and promote digital training courses. International Geneva, recognised for its vibrant digital ecosystem, could clearly provide a platform for taking the debate forward. 
Geneva: multilateralism serving digital technology
Ignazio Cassis outlined the situation during an interview at the Swiss Digital Days in 2020:
Geneva is today known for peace and human rights and for its humanitarian tradition. These strengths remain, but are increasingly digitalised.
Ignazio Cassis, Federal Councillor
Switzerland also seeks to facilitate the digital transition through its track record in bridge-building, gained over many years in the French-speaking capital of the UN. Switzerland's neutrality and policy of providing good offices inspire confidence, making it well placed to act as mediator in a changing digital environment.
Geneva also boasts a vibrant ecosystem around multilateralism. International Geneva serves as an operating hub for the 2030 Agenda and the 17 Sustainable Development Goals. More generally, Switzerland is at the cutting edge of new technologies, thanks to its federal institutes of technology and research facilities, and is home to a number of innovative companies that are leading the field.
A number of important international organisations and NGOs involved in the digital transition debate are based in the Geneva area, including the secretariat of the UN Internet Governance Forum (IGF) and the Geneva Science and Diplomacy Anticipator (GESDA), which was set up by the Federal Council to facilitate exchanges between scientific experts and diplomats on societal challenges posed by the new technologies. Through CERN, International Geneva has already played a major role in the development of the internet.
Alongside the wide-ranging work under way in Geneva, Switzerland also has mechanisms to build on this wealth of experience, such as the Digital Foreign Policy Strategy adopted in 2021 for the first time by the Federal Council. Under this strategy, Switzerland is working to assist French-speaking countries in particular with digital transformation, helping them to use new technologies in an inclusive manner for the benefit of the economy, society and public bodies. 
Switzerland's tradition of good offices, its extensive Geneva-based network and Digital Foreign Policy Strategy are great assets in addressing digital challenges in the French-speaking world and across the globe.
Switzerland at the Francophonie Village with selected representatives from International Geneva
As at previous summits, the Francophonie Village side event will be open to the public between 13 and 20 November. This event will showcase the digital technology expertise that Switzerland can offer the French-speaking world.
Four representatives of International Geneva were specifically selected for the work they are implementing in priority areas within the French-speaking sphere.
Swiss-Maltese NGO Diplo is representative of the crucial internet governance work being undertaken in the Geneva area. Diplo works to improve the role of small and developing states in global diplomacy. For example, it organised the Summit on Digital Diplomacy and Governance to be held in Malta on 18 and 19 November. Diplo also operates the Geneva Internet Platform, which recently published a second edition of the Geneva Digital Atlas, a map of Geneva-based digital policy actors. Diplo is also behind the digital policy observatory Digital Watch, which serves as a one-stop shop for the latest developments.
GESDA, which was set up by the Federal Council, will also have a stand at the Francophonie Village. GESDA leverages the International Geneva ecosystem to anticipate, accelerate and translate into concrete actions the use of emerging science-driven topics.
The International Digital Health and AI Research Collaborative (I-DAIR) will present its strategies for improving access to responsible research on digital health and artificial intelligence in healthcare.
Finally, the UNICEF and ITU-backed Giga initiative will also be present in Djerba. Giga aims to connect every school to the internet so that every child has access to learning content, exemplifying Switzerland's strong commitment to supporting education and connectivity.