Toni Frisch – a career dedicated to humanitarian aid
Formerly head of the Humanitarian Aid Department at the Swiss Agency for Development and Cooperation (SDC), 75-year-old Toni Frisch has channelled his energies over the past six years into coordinating humanitarian aid in eastern Ukraine. Following the end of his term of office at the Organization for Security and Co-operation in Europe (OSCE) in June, now is the perfect time to spotlight his wealth of experience and forthright championing of those most in need.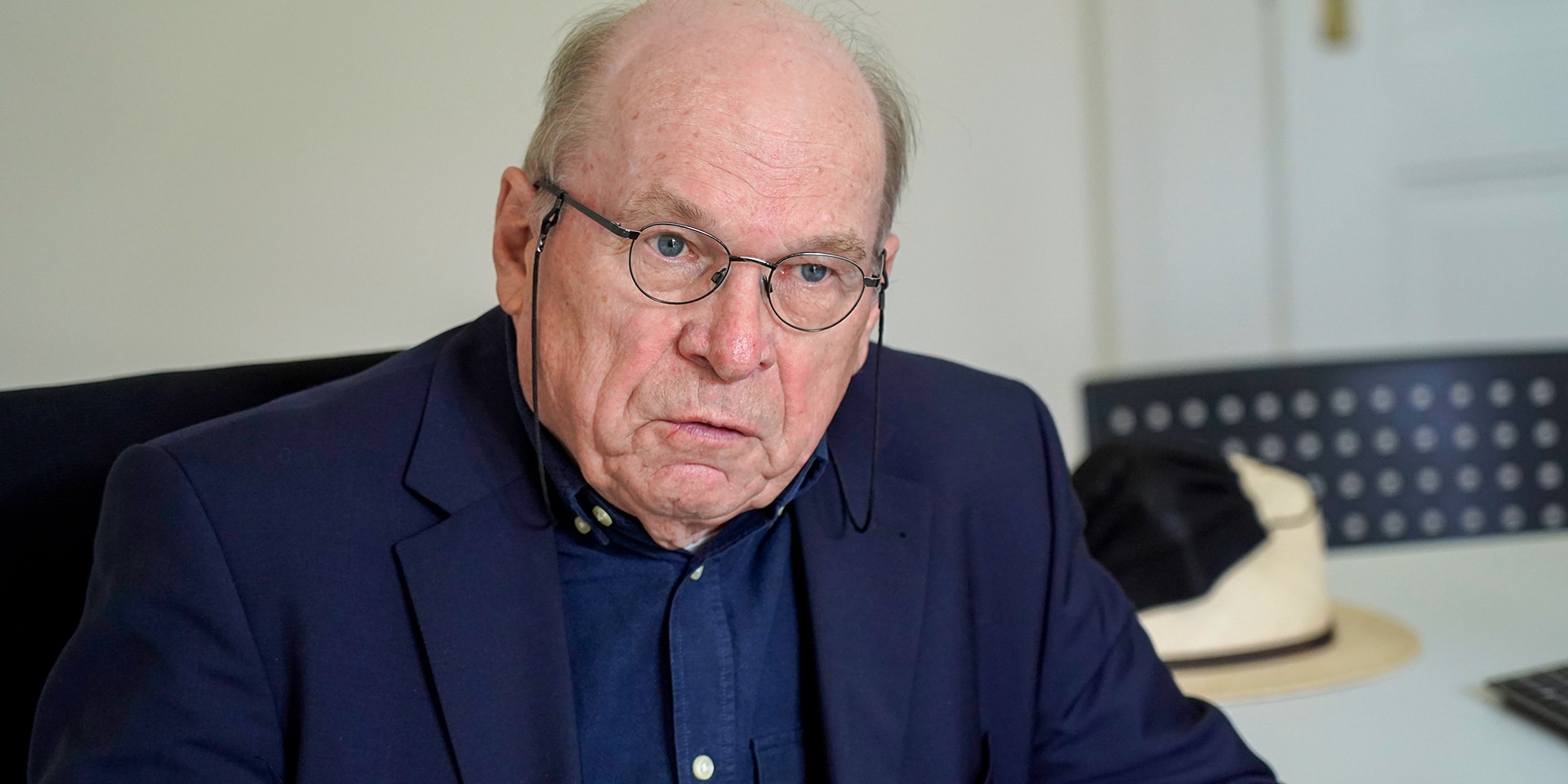 Ambassador Toni Frisch has just completed his term as coordinator of the OSCE Humanitarian Working Group in eastern Ukraine. In this interview he talks about his experiences. © FDFA
Toni Frisch has made Swiss humanitarian aid his life's work. His career started conventionally enough, delivering humanitarian aid as part of Switzerland's international cooperation from 1977 and then in the Federal Department of Foreign Affairs (FDFA) from 1980. He went on to serve as delegate for Swiss Humanitarian Aid and deputy director general of the SDC for many years, before much later taking on the role of coordinator of the OSCE Humanitarian Working Group in eastern Ukraine.
Based in Switzerland, he travelled back and forth countless times – usually once a fortnight – between Bern, Minsk and Kyiv, from May 2015 to June 2021. However, his association with Ukraine goes back much further than 2015. Following the explosion at the Chernobyl Nuclear Power Plant, he oversaw humanitarian aid programmes in the field in both Ukraine and Belarus. During that time, he worked closely with the top brass of what was then the Soviet Union, including the likes of Mikhail Gorbachev.
Later, as part of his mandate in eastern Ukraine, he visited many places caught up in the conflict between the Ukrainian authorities and pro-Russian separatists. His visits to prisons in the region left a particularly deep impression on him. He would travel to eastern Ukraine at least twice a year, in both summer and winter, to see the situation on the ground for himself. At the same time, his work regularly took him to OSCE partner countries, where he would report on the latest turbulence to officials in Paris, Berlin, Moscow, Brussels and Vienna.
In Ukraine, Swiss international cooperation is rolling out a cooperation and development programme involving all four of its actors: the State Secretariat for Economic Affairs (SECO), two SDC divisions and the FDFA's Peace and Human Rights Division (PHRD). Did you liaise closely with all of these actors during your work for the OSCE?
Yes, of course. My whole career and life have been about forging networks. I'd already built up an excellent local network in Ukraine, including the International Committee of the Red Cross (ICRC), the UN and a number of international and local organisations. I had close contacts with the SDC's Cooperation with Eastern Europe Department as well as all key partners of the PHRD, so I was very much engaged with all the parties involved out there, including of course the Swiss and other embassies. That kind of networking has always been a necessary part of my work.
What were the main goals you achieved in eastern Ukraine?
I should start by saying that I had a lot of leeway and a great deal of flexibility in interpreting my role within the OSCE. Obviously my job was to coordinate bilateral exchanges within my group and between the various parties to the conflict. I was also very actively involved in defending victims, alongside the ICRC and the UN. That entailed a lengthy negotiation process to get humanitarian relief into the territories under attack. We had to address the plight of internally displaced persons and refugees and give them access to drinking water and aid in general in hard-to-access areas. That was at the start of the conflict.
What about afterwards?
Later on, we increasingly had to play a very different role, mediating on the other side of the contact line, in the east. We had to make sure that UNICEF and the World Health Organization could access prisons and the most vulnerable people to get medication and medical equipment to them.
I think the issue of detainees and prisoner swaps was one of the most politicised topics I had to deal with.
In the last two years of my mandate, I focused heavily on the conditions in which prisoners were being detained, monitoring their transfer from east to west (around 550 of them), keeping in touch with them and searching for missing persons. I think the issue of detainees was one of the most politicised topics I had to deal with.
I could see how my actions, and my visits to detention centres, helped to secure better treatment, or better living conditions, for those detained in prisons. And I might as well say that so far I'm the only representative to have had close contact, including confidential interviews, with detainees held in eastern Ukraine's jails, in Donetsk and Luhansk. Despite all the efforts by EU countries, the UN and others, the ICRC still unfortunately has no right of access to these prisons.
What was the situation like in the prisons?
To give you an idea: in a cell of around 30m2, with one tiny window letting in barely any daylight, there were no fewer than nine prisoners, who hadn't had any contact with their loved ones for eight or nine months. 
Finding out from a letter that their son, brother or father was still alive was nothing short of a miracle.
Having demanded action from the prison governor, I arranged for them to be given paper and urged them each to write a letter to their family. I then arranged for the letters to be delivered. For their families, finding out from a letter that their son, brother or father was still alive was nothing short of a miracle.
There, it wasn't just a question of understanding the prisoners' plight but also of making things better for them. So, in that sense, it was also helping to foster peace in the country.
Absolutely! But getting Ukrainians and separatists around the same table to engage in constructive dialogue was always difficult. I would often stress the fact that, when sitting around a table to discuss humanitarian matters, the humanitarian principles of neutrality, independence and impartiality had to apply. Everyone has to have a seat at the table. What's more, everyone must have an equal say, government and non-government actors alike.
The issue of refugees and internally displaced persons will take years to resolve.
The issue of a million refugees and nearly 1.3 million internally displaced persons will take years to resolve. That's why I said, back in 2015, that the conflict in Ukraine would be a frozen conflict, mired in deadlock, for a long time to come. And that made me think that the political leaders had very little consideration for the welfare of their people. The only things that seemed to matter to them were power and their own authority. That was the hardest thing to get my head around.
Against this backdrop, were Switzerland's tradition of humanitarian aid and its strong commitment to peace in Europe and worldwide well received in Ukraine?
Switzerland has an excellent reputation in the humanitarian aid sector, including within the OSCE. This strength is one that I emphasised during my mandate in Ukraine, and our track record, especially under Didier Burkhalter's presidency, was very highly regarded. What's more, that tradition goes hand in hand with an ideal of neutrality that will hopefully endure in the future. In this context, we Swiss have considerable credibility which has to be put to good use so that it can really make a difference. Personally, I'm happy and proud to have been able to embody this Swiss tradition during my time in office.
Step by step, we managed to ease the conflict slightly.
But that's not enough…
No, it certainly isn't enough to end the hostilities, but it does allow us to take action to improve living conditions for the most vulnerable people on the ground. The reopening of the Stanytsia Luhanska bridge in 2019 by President Zelensky is a good example of what can be achieved. Ten to twelve thousand people cross the bridge every day between Luhansk and Ukraine. From June 2015, I lobbied day and night to get that bridge rebuilt, making numerous trips to Paris, Berlin, Moscow and Kyiv. I attended bilateral meetings with the former president, Leonid Kuchma, and representatives of the then head of the armed forces so that thousands of people could once again cross the bridge to be reunited with relatives or obtain basic necessities on the other side of the contact line. Step by step, we managed to ease the conflict slightly. It was all about persevering, even during COVID-19 when all the conferences had to be held virtually.
What will you do now?
Officially, I've been retired for the past ten years, but over that time I've taken on a number of roles, including senior advisor to the UN assistant secretary-general and vice-president of the Swiss Red Cross. I think I've been privileged and extremely fortunate to be able to do what I've done. I can say that even more confidently now that my work is drawing to a close. One can always take pride in having worked towards worthy goals, and that's what I'll be doing now.