La Francophonie – from cultural exchange to political purpose
The 37th Ministerial Conference of la Francophonie was held in virtual form, with Federal Councillor Ignazio Cassis among the attendees. Switzerland has been a member of la Francophonie since 1996. The organisation has four missions: to promote the French language and cultural and linguistic diversity, to promote peace, democracy and human rights, to support education and research, and to expand cooperation in the interests of sustainable development.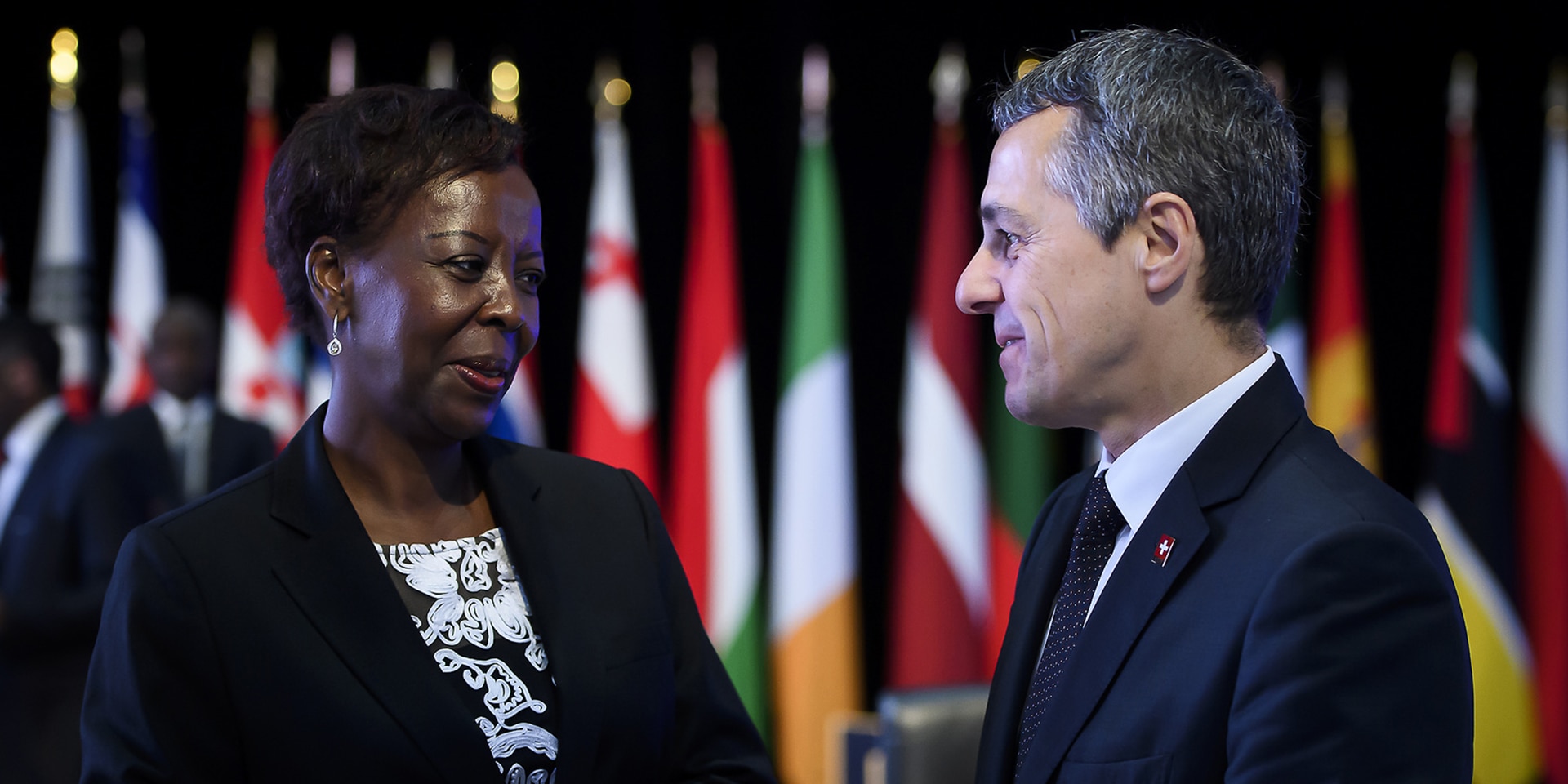 Federal Councillor Ignazio Cassis exchanges with Louise Mushikiwabo, Secretary General of la Francophonie, in Monaco in 2019. © Keystone
La Francophonie (the International Organisation of la Francophonie, OIF) was founded in 1970 at Niamey, on the banks of the Niger River. Amid the ruins of colonialism, its founding fathers Léopold Sédar Senghor, President of Senegal, Hamani Diori, President of Niger, Habib Bourguiba, President of Tunisia and King Norodom Sihanouk of Cambodia called upon their greatest ally, the French language, to encourage dialogue between their peoples. As Senghor affirmed: "In the rubble of colonialism, we found this wonderful instrument, the French language". With this as their basis, these heads of state constructed a foundation of solidarity that would permit reconciliation between their nations.
La Francophonie thus created a setting in which debate, cultural exchange and a reinforced sense of identity have continued to flourish. Nowadays, this intercontinental forum extends across Africa, Asia, Europe, America and the Pacific, uniting more than 300 million French-speakers around the world. A member since 1996, Switzerland is uniquely positioned to enter into dialogue and, more specifically, to defend an integral part of its own DNA: the rule of law.
The political dimension of la Francophonie
La Francophonie was established by the signature of the first convention of 20 March 1970, which effectively created the Agency for Cultural and Technical Cooperation (ACCT). As the name suggests, its objective was to promote international cultural and technological cooperation between nations. Over time the ACCT – which was to become the International Organisation of la Francophonie in 2005 – has acquired a more political dimension.
It was under Boutros Boutros-Ghali, first Secretary General of la Francophonie from 1997 to 2002, that the organisation began its transformation into a political entity that would carry the spirit of solidarity into the domains of peacebuilding, human rights and democracy. The adoption of the Bamako Declaration, the 20th anniversary of which was celebrated in November 2020, gave la Francophonie a set of tools to urge and to command respect for these shared basic values. The OIF and its 54 full member states and governments provide the means by which la Francophonie formulates, consolidates and implements its international policy programmes. Its mission is to effect multilateral cooperation between French-speaking countries through the Parliamentary Assembly of la Francophonie (APF) and four further actors: the Francophone University Agency, the TV5Monde television station, Senghor University in Alexandria, and the Association internationale des maires francophones association of French-speaking mayors, in which the cities of Geneva, Lausanne, Montreux, Vernier and Nyon are active members.
Furthermore, by working closely with a number of other international organisations such as the United Nations and the African Union, la Francophonie now enjoys global recognition. In 2020, it celebrated 50 years since its foundation, offering an opportunity for all members, including Switzerland, to share a new vision of the future.
Shared values
The OIF is recognised specifically as of facilitator in exchange both between and with member states. In particular, it supports legislative processes in several countries under its roof and, where asked to do so, helps states to find their way out of crisis. Its approach is never punitive, however. Indeed, if a member state or government has violated the principles shared by its community the OIF will initiate suspension proceedings, but will never sanction.
Switzerland is the OIF's third-largest contributor, behind France and Canada and on a par with the Fédération Wallonie-Bruxelles, which represents the French-speaking community in Belgium. Its support for the organisation is more than merely financial, however. The Swiss government and la Francophonie pursue largely overlapping goals, meaning that Swiss support is also political. The Swiss government supports the decisions of the OIF by helping member states and governments to prevent violent extremism, promote peace and security and abolish the death penalty.
Unlike other organisations, la Francophonie is not structured into regional groups, thereby avoiding certain divisions and nurturing an environment characterised by solidarity and by the defence of shared interests. In addition, a common language enables more fluent dialogue, and makes it possible to tackle sensitive subject matter. This is one of the principle aspects of la Francophonie's added value. As a country founded on respect for differences between cultures and for multilingualism, Switzerland has a particular part to play, especially since in reality only one country within the realm of la Francophonie counts French as its sole official language: France.
More broadly, Switzerland has working relationships with a number of actors in the French-speaking world. Chief among these is undeniably the multilateral broadcaster TV5Monde, of which Switzerland was a founder member in 1984. Since then, alongside four other French-language TV stations, Radio Télévision Suisse (RTS) has granted TV5Monde broadcast rights to its own news and educational content. TV5Monde is now one of la Francophonie's principal channels of communication around the world.
Influential backing for Switzerland's candidacy for the UN Security Council
From the Swiss perspective, the political dimension of la Francophonie is key. The 37th Ministerial Conference of la Francophonie, attended by the foreign ministers of member states and governments, has expressed its support for Switzerland's candidacy for the United Nations Security Council for the 2023–2024 term.