"I don't think any of us realised just how much we value our freedom."
Federal Councillor Ignazio Cassis talks to RTS in 'Pardonnez-moi' about the COVID-19 measures and the possible consequences of the pandemic. As he told the programme, many countries have thanked Switzerland for repatriating their citizens. It has also become clear that no country can tackle a crisis of this magnitude on its own. Here are some key quotes from the interview: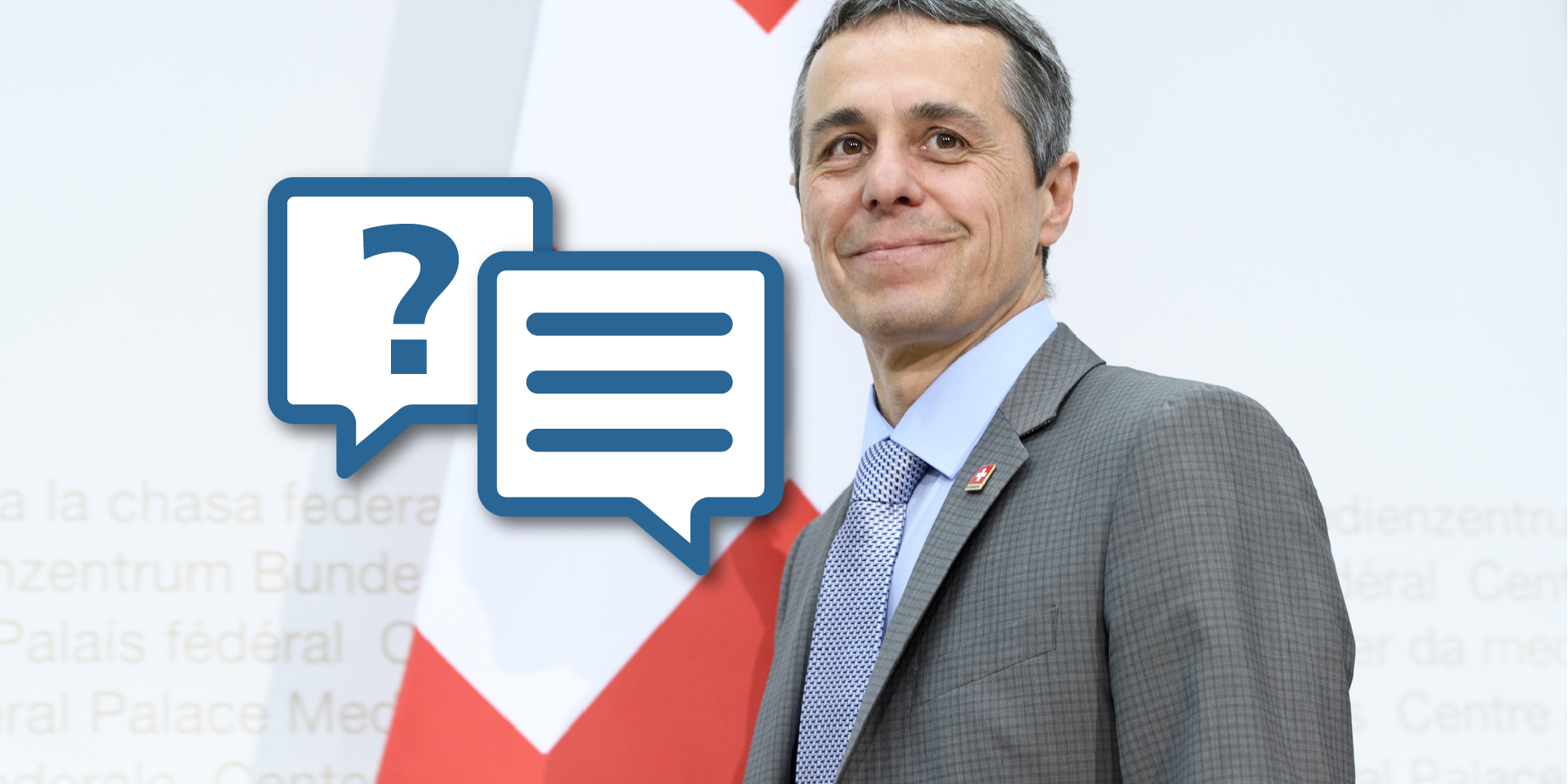 In an interview with the Swiss television station RTS, Federal Councillor Ignazio Cassis talks about Switzerland's cooperation with neighbouring countries in the fight against COVID-19. © FDFA
Federal Councillor Ignazio Cassis commenting in an RTS interview...

on freedom:
"I don't think any of us realised just how much we value our freedom. Liberty is enshrined in Article 2 of the Federal Constitution. But we are so used to having freedom that we have forgotten how important it is. This crisis has brought this home to us."
on the divide between the German and French-speaking parts of Switzerland and Ticino in dealing with the COVID-19 pandemic:
"I don't think cultural differences were the issue. The issue was where the outbreak occurred. The Italian region of Lombardy became the epicentre, which meant that Ticino was severely affected. If Munich had been the epicentre, Schaffhausen would have been in the same situation as Ticino."
on priorities for public health and the economy:
"We need to consider the health aspects, the economic impact and the health implications of the economic crisis. It is essential to keep all things in balance. Health and the economy are not mutually exclusive, but two sides of the same coin. Without health, the economy cannot thrive and there can be no health without a functioning economy."
on the consequences for Switzerland:
"We now have a huge responsibility, which is to strengthen Switzerland's finances following this crisis, so that we are ready to deal with any other crisis that may arise in 20, 25 or 30 years' time."
on the potential impact on the 'For moderate immigration' initiative (Limitation Initiative):
"The Federal Council has stated clearly and categorically that we need free movement of persons. I personally believe that we will have an even greater desire for freedom once this crisis is over. For the first time in years, we have learned to appreciate our freedoms and how important it is for people to exercise free movement, both within Switzerland and across the borders of neighbouring countries. I think this will bring an emotional charge to the discussion."
on Switzerland's support for international organisations:
"Contributing to appeals by the International Committee of the Red Cross (red), the UN (blue) and the G20 is another way in which Switzerland can demonstrate solidarity and participate in global efforts to tackle a truly global crisis."
on the responses to the FDFA's repatriation efforts:
"I have been very touched by the personal letters and children's drawings we received and the phone calls from ministers in neighbouring countries and beyond. Virtually every country has written us a letter thanking us for repatriating its citizens."
on the impact on relations with other countries:
"Providing help in emergencies such as this one makes an impression on an emotional level and strengthens bonds of friendship."
"When you find yourself talking to a colleague at midnight, in my case from Italy, about fine-tuning border rules to allow cross-border commuters from Lombardy to continue working in hospitals in Ticino, Graubünden and, in some cases, Valais and thus help our healthcare system cope with the crisis, this has an effect on your personal relationship with that colleague."
on the potential impact on EU relations:
"Personal exchanges in a crisis situation like this help to cement friendships and bring people closer together. That's important. But we also shouldn't be under any illusion that this is enough. Although this has been helpful, decisions still need to be made."
on Switzerland's crisis management image:
"Political stability and exercising restraint – Switzerland hasn't gone for all-out lockdown enforced by the police, etc. Individual responsibility has played a major part. We also took account of the needs of the cantons and haven't created a crisis of federalism. I think this has reinforced the perception, especially among neighbouring countries, that Switzerland is a strong and stable country."
"We enjoy a high degree of credibility as a country that does what it says, which I think can be a powerful asset to foreign policy."
on life before the pandemic:
"You can never go backwards in life. You have to keep moving forward. This also applies in our current situation. The post-COVID-19 world is going to be different. The world is changing and becoming increasingly digital. It will be a world that recognises that there are global threats that states cannot tackle alone. This will require increased multilateralism. In addition, it will be necessary to assess whether multilateralism and the major organisations have successfully risen to this challenge. I think we're going to see all of these changes in the new world."