One hundred years of diplomatic relations between Switzerland and Morocco
This year, Switzerland celebrates 100 years of its diplomatic presence in the Kingdom of Morocco. It all began with the opening of the first representation in Casablanca. A century later, relations have expanded considerably and are very wide-ranging. Morocco is a major partner in the implementation of the Federal Council's Middle East and North Africa (MENA) strategy. This anniversary highlights the strong ties that bind the two countries.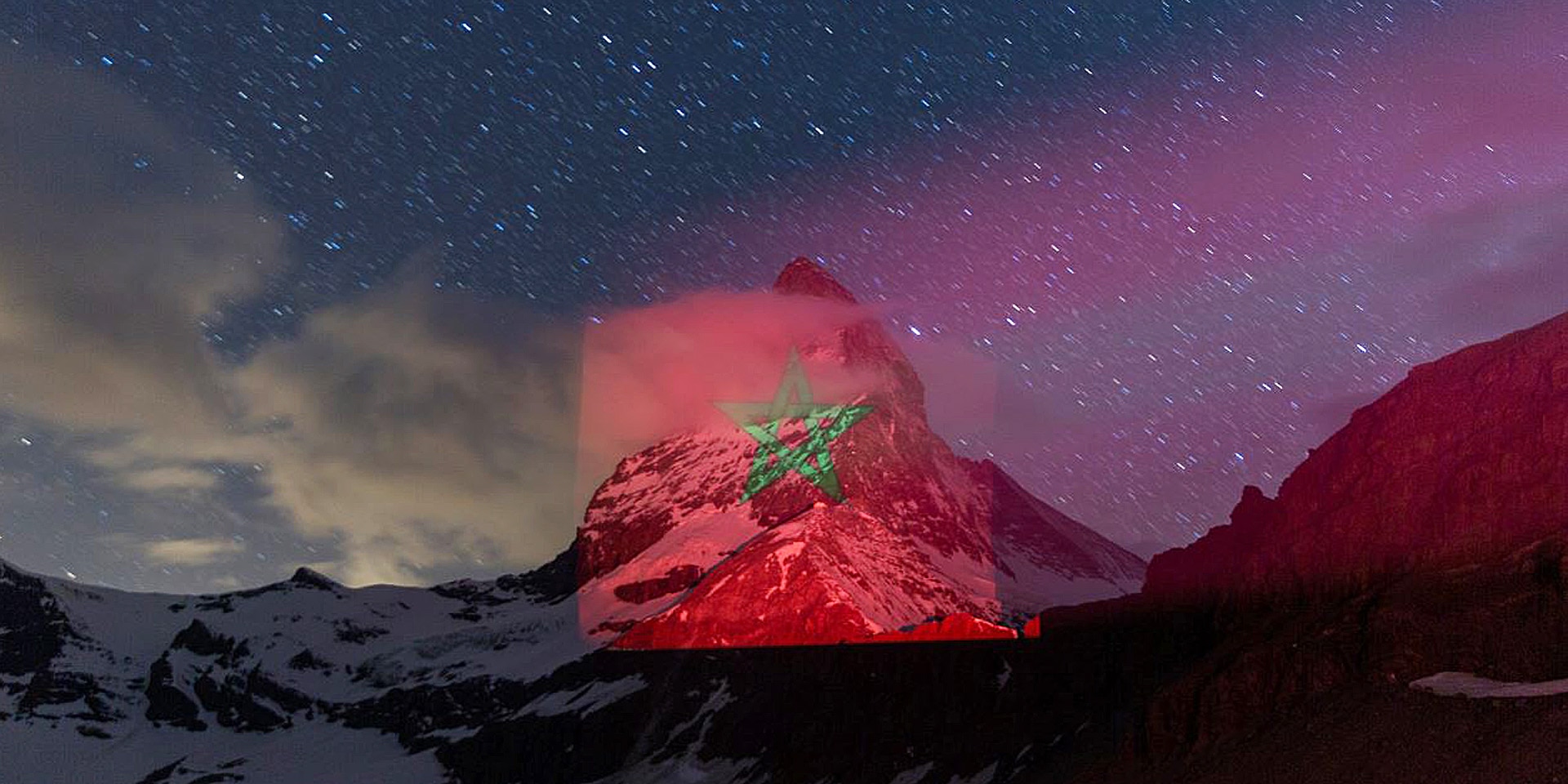 Morocco's flag being projected onto the Matterhorn. © Zermatt Tourism – Light Art by Gerry Hofstetter
Switzerland and Morocco have magnificent mountains. Both countries are focused on business and tourism is a mainstay of their economies. Their current relationship is nurtured by one hundred years of history and a common desire to continue to develop their friendship and cooperation.
For Ambassador Maya Tissafi, head of the MENA division at the Federal Department of Foreign Affairs (FDFA), this is an important anniversary for the two countries. "The centenary of a Swiss presence in Morocco is a cause for celebration. It allows us to commemorate the history of our past relations and to identify opportunities for future collaboration," says Tissafi.
1921: the first consulate – 2021: a joint declaration
A century ago, Europe was emerging from the First World War. The new geopolitical configuration called for Switzerland to expand its international network. Switzerland's first honorary consulate opened in Casablanca in 1921. As trade developed so did the consular needs of Swiss expatriates. The relationship grew and led to the opening of the first embassy in Rabat in 1960.
Since then, Switzerland's diplomatic presence in Morocco has strengthened and expanded. The two countries cooperate closely on economic matters, trade, research, innovation, culture, agriculture, education, energy and tourism.
"This anniversary year marks another step forward," asserts Maya Tissafi. "We want to expand the basis of our bilateral relations still further, to diversify and develop them."
On 3 December in Bern, Federal Councillor Ignazio Cassis will welcome Morocco's Foreign Minister, Nasser Bourita. The aim of the meeting is to sign a joint declaration to shape and strengthen relations between Morocco and Switzerland. Discussions will also take place on a climate-specific declaration and on holding regular political consultations.
Cross-sectoral cooperation and economic relations
"Switzerland has developed a strategy for the Middle East and North Africa region – the MENA strategy for 2021–2024 – in which Morocco plays an important role as a bridge to the African continent," explains Maya Tissafi. Migration and sustainable development are at the heart of this strategy.
This anniversary is an opportunity to underscore the diversity of the cross-sectoral cooperation involving actors from all sides, political, economic, civil society and even fellow expatriates.
Switzerland and Morocco collaborate on education and research but also on economic relations, regional development and multilateral cooperation. Their economic relationship is expanding. This is particularly true in sectors such as sustainable tourism, transport, agriculture and alternative energy sources.
This solid relationship between the two countries is reflected in strong trade figures which reached a total of more than CHF 600 million for the first time in 2019, making Morocco Switzerland's third largest trading partner in Africa. An expatriate community of approximately 1,700 Swiss citizens in the country is another great asset.
The Moroccan flag lights up the Matterhorn
An excellent example of Swiss and Moroccan solidarity was on display in Zermatt in April 2020. In the early months of the COVID-19 pandemic, Zermatt's tourist office organised a daily projection of flags onto the world-famous Matterhorn mountain, a symbol of strength and stability.
The Moroccan government had helped to repatriate a number of Swiss nationals. The flag, projected on 23 April, was a symbol of solidarity during the coronavirus pandemic and of gratitude from Switzerland to the Kingdom of Morocco.
"Our two countries are constantly strengthening their relationship, which is nurtured by regular dialogue, partnerships that are enriched and renewed and a strategy that provides a clear and coherent framework for action," explains Tissafi. "For the next hundred years, we will continue to explore new possibilities for cooperation in areas of common interest."