The Swiss abroad: head of FDFA celebrates Swiss National Day with country's diaspora
As part of a working visit to Asia and Oceania, which includes stops in Jakarta, Singapore, Sydney, and Wellington, Federal Councillor Ignazio Cassis will celebrate this year's Swiss national day with members of the country's diaspora. At the end of 2022, there were more than 800,000 Swiss citizens living abroad.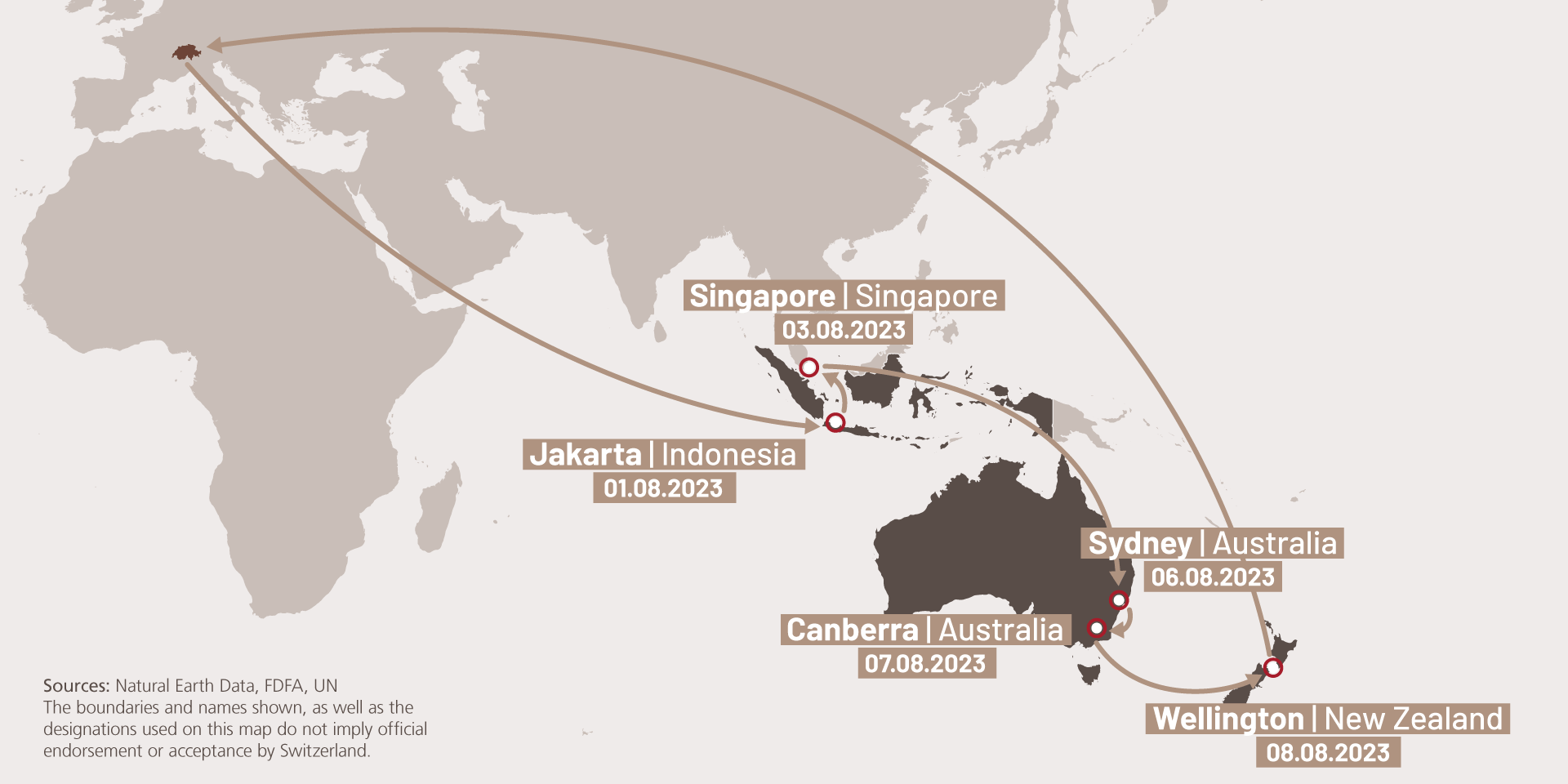 Ignazio Cassis used a working trip this year to celebrate National Day with the Swiss abroad in Indonesia, Singapore, Australia and New Zealand. © FDFA
Celebrating Swiss National Day abroad is a unique experience where patriotism and camaraderie meet under new horizons. In Jakarta or Sydney, the traditional cervelat sausages and vegetable skewers taste just a little different. They'll still be delicious, of course, and likely also complemented by a local speciality. As part of a working visit, head of the Federal Department of Foreign Affairs (FDFA) Ignazio Cassis will spend 1 August with the Swiss communities in Indonesia, Singapore, Australia and New Zealand.
Speaking at the Congress of the Swiss Abroad in Lugano in 2022, Mr Cassis emphasised the important role played by the country's diaspora: "You build bridges and forge new paths. Switzerland needs you and your ties to the rest of the world now more than ever." Mr Cassis also emphasised that the Swiss abroad are a force for innovation: "You are external observers of our country, and that is often a source of vital new perspectives."
Indonesia: "Bhinneka Tunggal Ika"
The first stop was Indonesia, which has been home to a Swiss community since the seventeenth century. Switzerland first opened its representation in Jakarta in 1952, and by the end of 2022 there were just over 1,000 Swiss citizens living in the country.
«Indonesia's national motto "unity in diversity" could just as easily be the motto of Switzerland! Our two nations share this wealth of different cultures, languages, religions and beliefs.»
Federal Councillor Ignazio Cassis addressed the Swiss community in Jakarta on 1 August.
Singapore
The second stop in Mr Cassis' trip was Singapore, Switzerland's most important trading partner in South East Asia. Switzerland and Singapore have a trading relationship that dates back to the end of the 1830s. The demographics of the 2,600-plus Swiss citizens currently living in Singapore offer further insights into that dynamic: 60% are employed, 33% are minors, and 7% are seniors. On average, the proportion of seniors in Swiss communities abroad is above 20%.
In his speech to Swiss citizens celebrating their country's national holiday at the Swiss Club on 5 August, Federal Councillor Ignazio Cassis said that "the spirit of 1848 laid the foundation stone for a modern, liberal Switzerland, a model from which other nations have drawn inspiration, starting with Singapore.
Today, given the scale of our exchanges, our capacity for innovation and our regional importance, I can say that the inspiration is mutual and I'm delighted that this tremendous momentum is carrying our two nations forward!
Federal Councillor Ignazio Cassis, in his speech to the Swiss community in Singapore
Australia
For its third stop, the trip moved on to Oceania. Outside of Europe and America, Australia is home to the largest Swiss population abroad: more than 26,000 Swiss citizens live in the country. The community is very active, maintaining a total of 35 Swiss associations and clubs.
On 6 August Mr Cassis attended celebrations to mark the national holiday organised by the 'Swiss Yodlers of Sydney' and the 'Swiss Folk Dance Group Alpegrüss'. The programme of events included yodelling, Swiss horn performances and folk dancing, while a range of Swiss culinary specialities were also on offer.
Switzerland and Australia are united in the values they share and democracies like ours can gain much from each other, despite global challenges and crises.
Federal Councillor Ignazio Cassis, in his speech to the Swiss community in Sydney
New Zealand
The fourth and final stop of Mr Cassis' trip was in New Zealand. The country is currently home to 7,300 Swiss citizens, employed mainly in agriculture and tourism.
At an event in Wellington on 8 August to mark Swiss National Day and 60 years of diplomatic relations between the two countries, Mr Cassis met with representatives from various Swiss companies as well as the presidents of the country's Swiss clubs.
I am convinced that both our countries could benefit even more from increased exchanges. Our dynamism and successes should not lead us to rest on our laurels.
Federal Councillor Ignazio Cassis, in his speech to the Swiss community in Wellington
Consular services for the Swiss abroad
In 2022 there were more than 800,000 Swiss passport holders living abroad. "They are a key source of information and act as privileged representatives of our economy, industry and research," says David Grichting. Mr Grichting is head of the FDFA's Consular Directorate, which coordinates matters relating to the Swiss abroad within the Federal Administration. "I've seen on a host of occasions just how much they contribute to Switzerland's image." More than two thirds of Swiss citizens abroad live in Europe, mainly in France, Germany and Italy. One fifth are in North America, mostly in the US and Canada.  
And how do they all keep in contact with Switzerland? The network of Swiss representations are the first points of contact around the world and provide advice and services to Swiss citizens living abroad, helping them to create official documents, exercise their civil rights, and secure consular protection. If required, they can also consult the FDFA Helpline in emergencies and for enquiries on consular services.
In addition to these platforms, the SwissInTouch app has provided the Swiss abroad with information on the go since 2022. The idea behind the new app is to enable Swiss citizens abroad to find and receive important information from their official representation, FDFA central services and other institutional partners on a single, state-of-the-art platform.
The Organisation of the Swiss Abroad (OSA), which was created in 1916, also works to maintain ties between Switzerland and its citizens around the world. Its highest body is the Council of the Swiss Abroad. The council's 140 members (120 abroad and 20 in Switzerland) represent the interests of Swiss citizens around the world to the Swiss authorities and general public. The OSA also publishes the Swiss Review, a magazine for the Swiss community abroad.