Italian Language Week: from Bern to Madrid
The Federal Department of Foreign Affairs is showcasing Switzerland's third national language to mark this year's Week of the Italian Language in the World. The FDFA's Italian speakers are leading the effort to raise awareness and understanding of the linguistic and cultural heritage of Italian-speaking Switzerland. We travel to Bern and Madrid to learn more.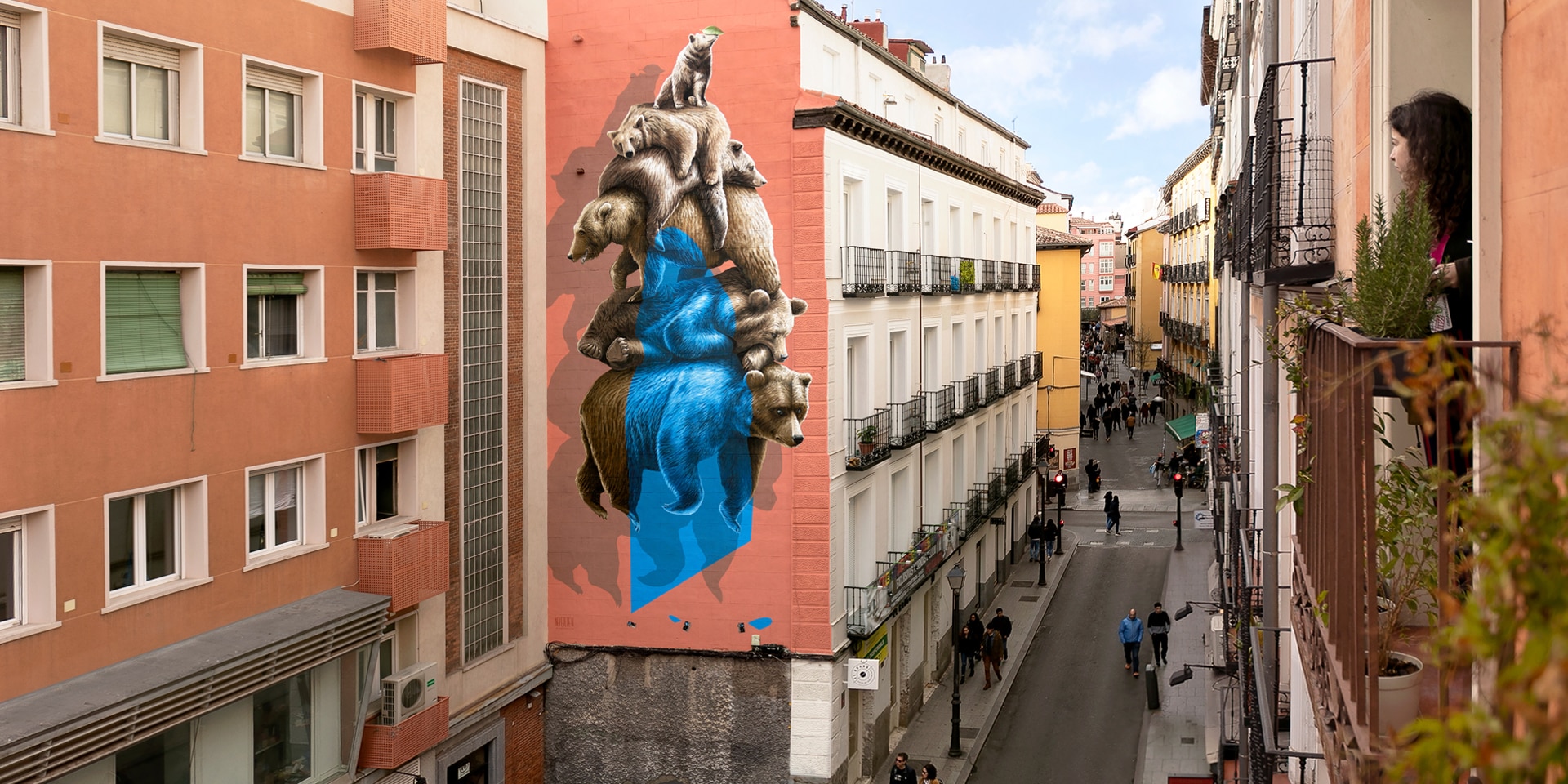 Traces left by Swiss Italians in Madrid: Christian Rebecchi and Pablo Togni, aka Nevercrew, created the mural "Offset" for the Urvanity Art Fair 2020. © Nevercrew
We're in Bern and it's 11.45am. French- and German-speaking colleagues from various FDFA divisions are about to start an Italian language class in a building of the federal administration. Today's conversation class focuses on Dante, the theme of this year's Week of the Italian Language in the World from 18 to 24 October. Federal Councillor Ignazio Cassis, head of the FDFA, visits the class and thanks his colleagues for their dedication to making plurilingualism a reality in our department. 
Promoting Switzerland's minority languages is also one of the main priorities of the structured political dialogue between Federal Councillor Ignazio Cassis and the cantons of Graubünden and Ticino.
Italian: an essential part of Switzerland
This is the FDFA's motto to promote Switzerland's third national language. "About a hundred people have taken part in the Italian language courses, writing workshops and webinars offered by the department to its employees at its head office in Bern," explains Antonella Di Fusco, desk officer at FDFA Equal Opportunities and Global Gender Issues.
Switzerland has a global presence with around 170 representations, which employ about 2,300 local staff. Because FDFA staff speak a wide variety of languages besides Switzerland's national languages, the promotion of intercultural dialogue is always at the heart of Swiss diplomacy.
Italian-speaking Switzerland shines beyond its borders – a stopover in Madrid
Swiss embassies around the world are a unique treasure trove of stories with Italian-speaking protagonists. Vanessa Reichmuth Pozo and Alberto Giovanetti, who work in the Swiss embassy for Spain and Andorra, are good examples. During their tour of the city in search of traces of Swiss-Italians in Madrid, just a few steps from the Swiss embassy they come across 'Offset', a mural painted by the Ticinese street art duo Nevercrew.
The Swiss embassy in Spain and Andorra and the Swiss consulate general in Barcelona collaborate every year on events to promote the Italian language. This year the Swiss ambassador, Hanspeter Mock, and Alberto Giovanetti, science and culture counsellor at the embassy, are taking part in a marathon reading of Dante's Divine Comedy organised by the Circolo delle Belle Arti in Madrid. "A group of Italian speakers working in Spanish institutions and the embassies of various other countries here in Madrid are taking part in the reading," explains Giovanetti.
Visit the 'Swiss story' available from 20.10.2021 on houseofswitzerland.org: "Walking tour of Madrid in search of Swiss-Italian art and architecture"
Video interviews with architects from Ticino in New York City are linking the Italian language with Archtober, New York's month-long celebration of architecture and design. A lecture at Emory University in Atlanta on the dialects spoken in Ticino or readings by Swiss-Italian authors from Tunis to Santiago are just some of the initiatives taken by Swiss embassies and consulates to showcase the cultural treasures of Italian-speaking Switzerland abroad. A wide range of initiatives and events around the world are already set to mark next year's edition of the Week of the Italian Language in October 2022.