Forecasting natural disasters for a rapid response in case of an emergency
Forest fires in the Amazon basin, calculations of hurricane trajectories, seasonal climate forecasts for agriculture: the early warning systems set up by the World Meteorological Organization (WMO) facilitate preventive measures to protect communities against natural disasters. At its meeting on 3 April 2020, the Federal Council decided to support a new WMO programme to enable developing and emerging countries to better meet the challenges of climate change. Currently based in Peru, humanitarian expert Omar Bellprat has been working for the Federal Department of Foreign Affairs for two years. He gives us an insight into his daily work and its importance for local communities.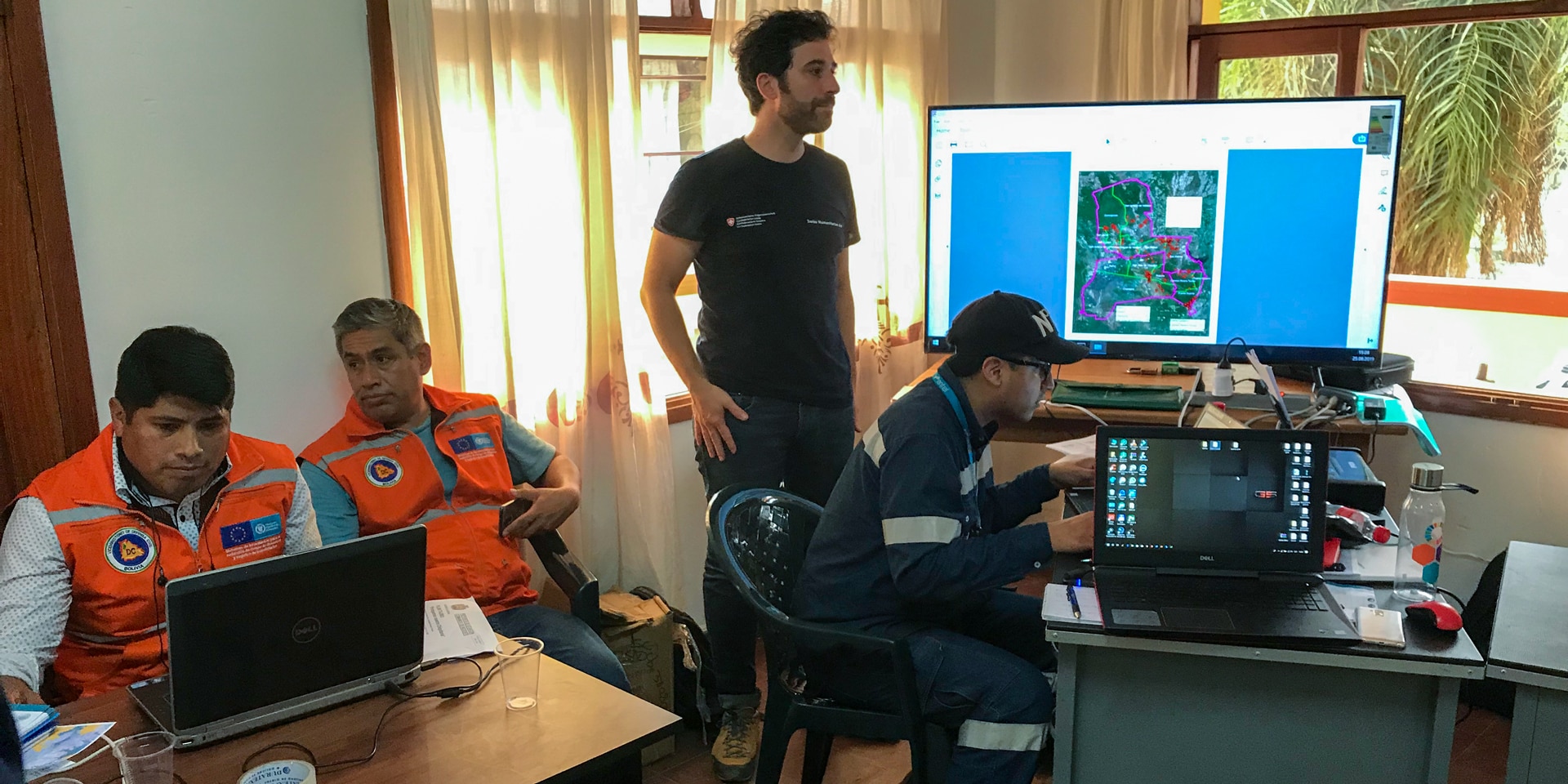 Omar Bellprat (centre) was deployed to Bolivia in 2019 to support the authorities in monitoring forest fires in the Amazon basin. © SDC
What in your eyes are the main objectives of the new World Meteorological Organization (WMO) programme?
This new WMO project will enable developing and emerging countries to better respond to climate-related challenges. We all know that weather events often unleash major disasters, but it's often difficult in the affected countries to access services and pertinent meteorological information. The WMO wants to strengthen collaboration between member states to better respond to these challenges. It is seeking to put in place a new coordination mechanism that will allow the United Nations, governmental and non-governmental organisations to access weather and climate-related information and expertise.
What is your role as a Swiss expert working on behalf of the Federal Department of Foreign Affairs?
I am a member of the Swiss Humanitarian Aid Unit and currently work at the Swiss Embassy in Peru. I am part of a regional group of specialists in disaster risk reduction and climate change adaptation. The group was set up by Swiss Humanitarian Aid, part of the Swiss Agency for Development and Cooperation (SDC). It is also active in Bolivia and Ecuador. Information about climate-related risks plays a vital role in the region, as we saw last year during the drought and forest fires in the Amazon basin. Part of my work is to monitor climate risks to give local authorities advanced warning of imminent dangers. I also provide them with forecasts when a disaster cannot be avoided. We also share these information platforms with the Swiss representations in the region.
How does your work fit in with Switzerland's foreign policy?
The Federal Council's Foreign Policy Strategy for 2020–23 states that Switzerland will strengthen its partnership with developing countries and relevant regional organisations through the exchange of information, technology transfer and by building the capacity of institutions to reduce risks. The cooperation with the WMO is an example of this. In Switzerland we have a lot of experience in risk management surrounding natural disasters. We can share this knowledge to improve risk analyses and reduce losses and damage caused by natural disasters. Our cooperation with the WMO also shows the potential of new technologies. Switzerland is making use of this potential both in disaster risk reduction and in agricultural engineering, healthcare, climate change mitigation and access to water. Through Tech4Good we are using emerging technologies to search for and develop innovative solutions.
Let's go back to the new WMO programme. Why is it so important to have international coordination when it comes to the climate?
Private and public institutions have many sources on imminent climate risks such as floods, droughts and tropical storms, but there are few shared platforms or official channels that bring together all this information. This is where Weather4UN wants to create added value. It will enable cooperation among all WMO meteorological services, under the operational leadership of MeteoSwiss. This will help to mitigate the consequences of climate change in developing countries.
How is Switzerland involved in this project and how much is it investing?
Switzerland will contribute CHF 4.7 million to the establishment and operation of a coordination centre at the WMO Secretariat headquarters in Geneva. The centre will collect data from a network of national and regional meteorological services that will be established with the support of WMO member states. The coordination centre will then disseminate the data to the interested agencies. Switzerland's contribution is part of a pilot phase until 2023. It will provide technical resources and experts through the Federal Department of Home Affairs (MeteoSwiss) and the Federal Department of Foreign Affairs (SDC).
Why is it so important that Switzerland supports this?
Many emerging and developing countries do not have the necessary infrastructure to collect and disseminate meteorological information. They will be able to apply to this new centre to benefit from these services.
How does this participation fit in with the development aid that Switzerland already provides when natural disasters strike?
From a humanitarian aid perspective, information on climate-related risks is essential. Predicting the trajectory of a hurricane is a classic example. It can be used to evacuate threatened populations in advance. Such information is particularly relevant in humanitarian crises where people are housed in temporary shelters.
Weather and climate forecasting are also important for sustainable development. Here in Peru, the SDC is supporting the use of seasonal forecasting in rural agriculture in the Andes as part of the CLIMANDES project. This information is helping farmers to better prepare for droughts or wet periods and to reduce yield losses. With the support of Weather4UN, many countries will be able to access this kind of service.
Inset : What does the World Meteorological Organization (WMO) do?
The World Meteorological Organization (WMO) is an intergovernmental organisation. Switzerland, represented by MeteoSwiss, is one of 193 member states. Based in Geneva, it is the United Nations specialised agency for meteorology (weather and climate), operational hydrology and geophysical sciences.
In the WMO's authority are issues on the state and development of the Earth's atmosphere, its interaction with the land and oceans, the weather and climate it produces and the resulting distribution of water resources.
The WMO's vision is to provide world leadership in expertise and international cooperation in this field and thereby contribute to the safety and well-being of people throughout the world and to the economic benefit of all nations.