"Fifth Switzerland": statistics for 2020 on the Swiss abroad
At the end of 2020, more than one in ten Swiss people were living abroad – almost two-thirds of them elsewhere in Europe, mainly France. These are among the findings of the Federal Statistical Office's statistics for 2020 on the Swiss abroad, published at the end of March.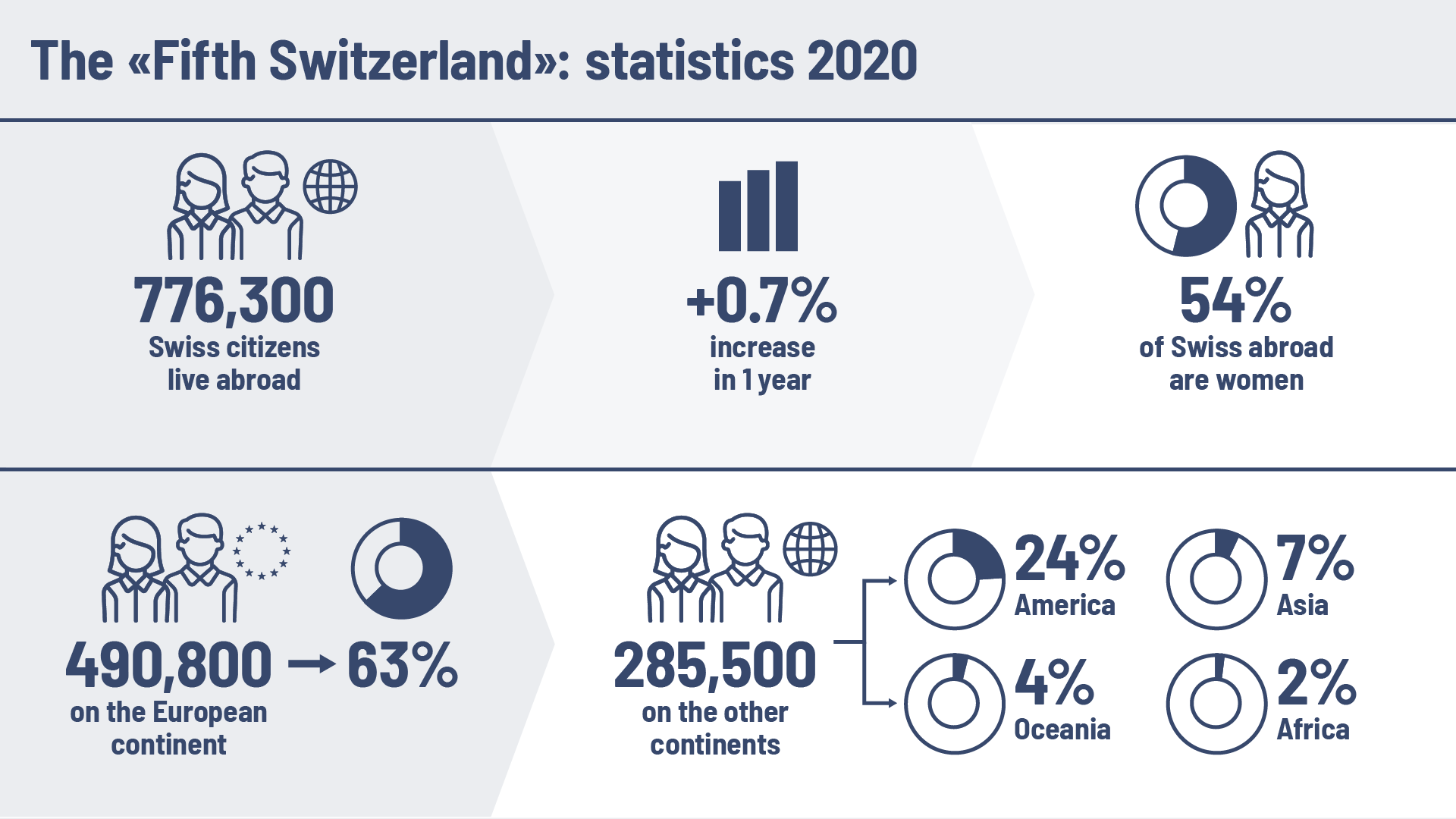 More than 10% of Swiss citizens live abroad, almost two-thirds of them in Europe, especially in France, according to data from the FSO. © FDFA
The number of Swiss citizens living abroad continued to grow in 2020. At the end of the year, they totalled 776,300. The 'Fifth Switzerland' thus grew by about 0.7%. However, this is a smaller increase than in 2019 and 2018 (+1.4% and +1.1% respectively).

Europe the main destination
Europe is the main continent of residence: two-thirds of Swiss abroad live here (490,800 or 63%). Their number increased by 0.7% in 2020. The increase in the number of people aged 65 and over was much more significant (+2.8%). Overall, the proportion of women remains higher than men.
On the European continent, most Swiss abroad live in France and its overseas territories (200,900), followed by Germany (94,600), Italy (50,200), the UK (37,700) and Spain (24,500). The number of Swiss nationals increased in all these countries in 2020: the highest increase was recorded in Germany (+2.5%) and the lowest in France (+0.5%).
Some 285,500 Swiss nationals lived on other continents in 2020, of whom 24% in the Americas, 7% in Asia, 4% in Oceania and 2% in Africa. The largest communities outside Europe were in the United States (81,300), followed by Canada (40,600), Australia (25,700) and Israel (21,400). Compared to 2019, numbers increased in Europe (+1.4%) and Oceania (+0.7%), while they decreased in the Americas (-0.2%), Asia (-1.0%) and Africa (-2.9%).
The proportion of women remains higher than men
In 2020, 21.1% of the Swiss abroad, i.e. 163,800 people, were minors under the age of 18. By the end of 2020, the number of centenarians was 662, which corresponds to nine centenarians for every 10,000 Swiss abroad. There were more women living abroad than men in 2020, 54% and 46% respectively. This was the case for those residing in Europe, the Americas, Africa and Oceania, with shares ranging from 52% in Africa to 56% in Europe.