"International Humanitarian Law is written in Switzerland's DNA"
Corinne Cicéron Bühler, Ambassador and Director of the Directorate of International Law of the Federal Department of Foreign Affairs (FDFA), will chair a panel discussion with the International Committee of the Red Cross (ICRC) on the subject of international humanitarian law. In a prior interview, she explains why Switzerland has been committed to strengthening international humanitarian law for many years.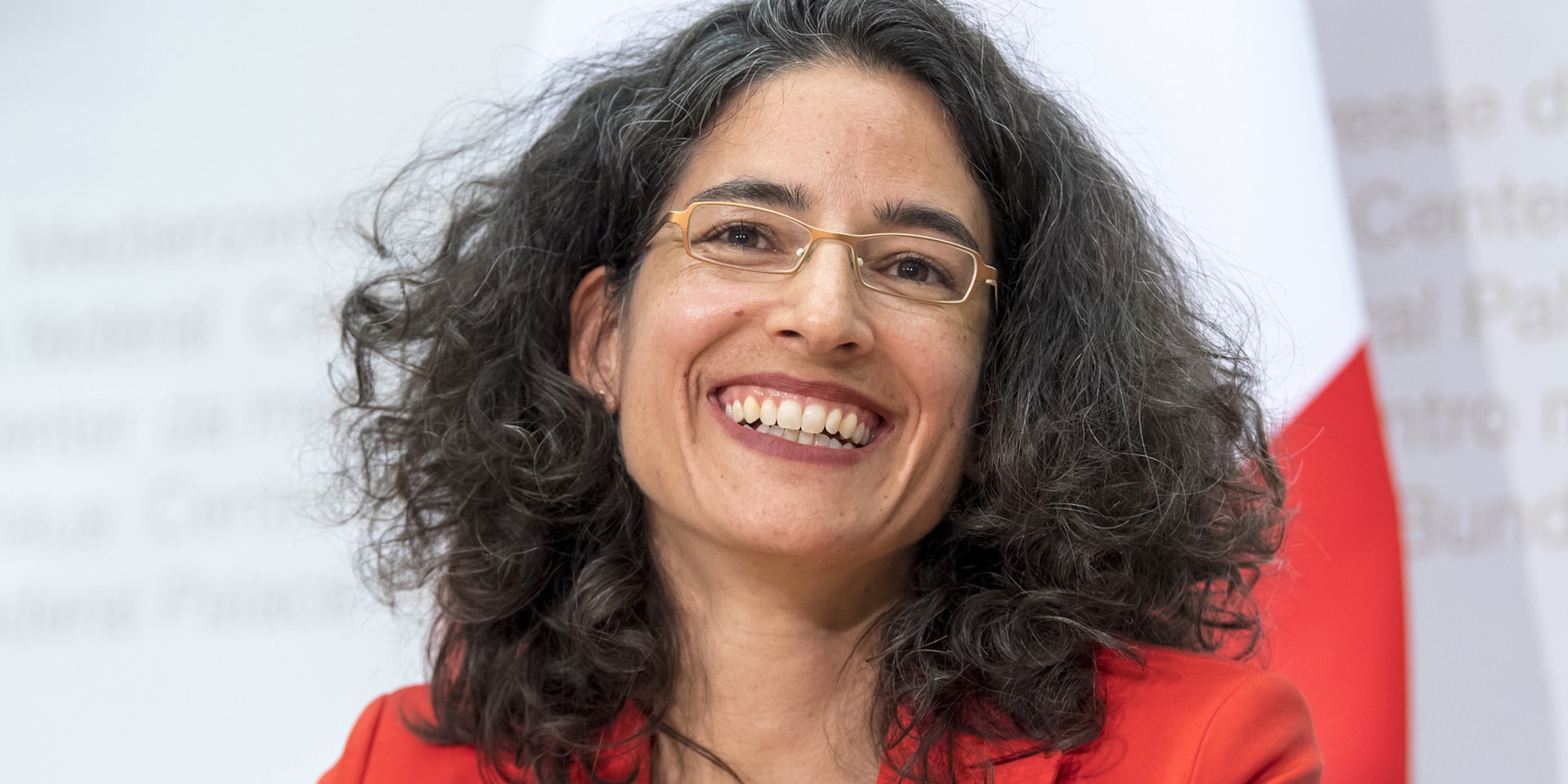 Corinne Cicéron Bühler has been the Director of the Directorate of International Law of the FDFA since 9 May 2018. © Keystone
Switzerland has a long humanitarian tradition; is the promotion of international humanitarian law around the world one of the priorities of Swiss foreign policy?
Respecting, strengthening and promoting IHL are priorities of Switzerland's foreign policy. Federal Councillor Ignazio Cassis emphasized this in the foreword to the Voluntary Report on the implementation of international humanitarian law by Switzerland, adopted by the Federal Council in August. Indeed, the Foreign Policy Strategy 2020-23 emphasizes that Switzerland actively seeks to promote greater respect for and strengthening of IHL. This is in line with a long tradition of Swiss foreign policy. The first Geneva Convention of 1864 had already been drafted at the initiative of the Swiss government. Switzerland is now the depositary of the four Geneva Conventions of 1949 and their Additional Protocols of 1977 and 2005. These are the fundamentals of IHL.
Switzerland strongly condemns parties to conflicts that do not respect IHL. Is this compatible with its status as a neutral state?
Like any State party to the Geneva Conventions, Switzerland has an obligation to respect and ensure respect for IHL. It must therefore do everything reasonably within its power to prevent and stop violations of IHL by parties to armed conflicts. For this reason, Switzerland regularly calls on all parties to respect IHL and condemns violations of it, whoever the perpetrators may be. In doing so, it does not take sides. It merely reiterates the law, which applies to everyone. This is not contrary to neutrality. Indeed, neutrality in no way prevents the active promotion and respect of the core values of Switzerland. Neutrality cannot be understood as a status justifying inaction and withdrawal. On the contrary, to ensure its own security, Switzerland has a vital interest in actively promoting respect for international law, including humanitarian law.
At the beginning of November, the FDFA organized a virtual meeting between 280 State experts from around the world. Is it therefore essential that this sharing of good practice takes place outside the diplomatic sphere?
Indeed, from 2 to 5 November 2020, Switzerland organized such a virtual meeting. It concerned the protection of medical activities in armed conflicts. Who would be better equipped than members of the Ministries of Defence and Health to deal with such a topic? This is why Swiss diplomacy encouraged the participation of such experts. The invitation aroused considerable interest on their part. They were more than 280 from about 100 countries to register. Together, they exchanged views on the challenges they face and how they are overcoming them. The result was there: thanks to their technical expertise, the participants identified a large number of good practices. These will serve as a source of inspiration for advancing the implementation of IHL at the national level.
A round table is organized on 18 November. Representatives of the Federal Department of Defence, Civil Protection and Sport (DDPS), the International Committee of the Red Cross (ICRC) and two members of parliament will be present. You will be attending on behalf of the Federal Department of Foreign Affairs (FDFA). Beyond the challenges and issues that will be addressed, does this also show that the humanitarian question also has a resonance on Swiss domestic policy?
As Federal Councillor Ignazio Cassis pointed out, foreign and domestic policy are inextricably linked. Swiss foreign policy is based on a democratic dialogue with domestic actors. We have an interest in developing a coherent policy at home and abroad. Consequently, the Federal Council's policy on IHL reflects our values at home. IHL is written in Switzerland's DNA.
New technologies are taking up more and more space on a daily basis. What challenges does digitization pose for the Directorate of International Law, and more generally for the FDFA?
Today, technological progress has given rise to new means and methods of warfare. Think of cybernetic means and the increasing integration of autonomous components into weapon systems. For Switzerland, there is no doubt that IHL applies to these new weapons and the use of new technologies in warfare. The question is how IHL applies in practice to these new technologies. For example, how does IHL protect the Red Cross website or electronic emblem? What does "bear arms openly" mean in cyberspace? Answers to these types of questions are essential for the proper implementation of IHL. Switzerland contributes to clarifying these questions by actively participating in various forums. In the Group of Governmental Experts of the Convention on Certain Conventional Weapons (CCW), Switzerland is expressing its views on the application of IHL to lethal autonomous weapon systems. Switzerland also works closely with the ICRC to protect civilians in the digital space during armed conflicts. Switzerland is well placed to carry out this type of action thanks to the international recognition it enjoys on IHL issues.