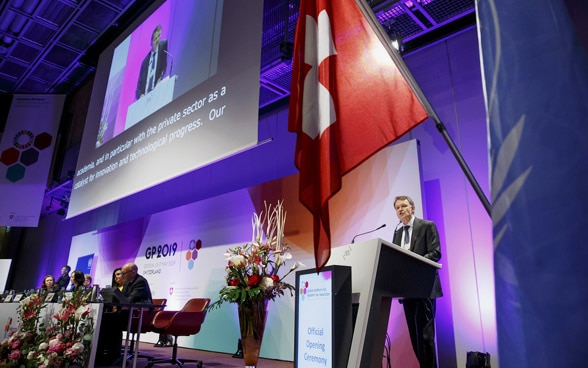 Geneva will host the world's largest conference on disaster risk reduction from 15 to 17 May 2019. The situation, and the need for mechanisms to address it, could not be more pressing: heatwaves in India and China, forest fires in California and economic losses due to earthquakes in Asia are on the increase, impacting nature and the environment and affecting all human activity. Natural disasters displace 50,000 people every single day. Joint action is essential, not only to prevent distress and suffering but also because resilience is more cost-effective than post-disaster reconstruction. One dollar invested in prevention saves four dollars' worth of damage, according to recent studies.
The GPDRR is an international conference held every two years at different locations. In 2019 it is taking place in Geneva and will be co-chaired by the UN Office for Disaster Risk Reduction (UNDRR) and the Swiss government. The conference serves as a forum for experts from the public and private sectors, science and civil society on the basis of a jointly defined framework for action, the Sendai Framework for Disaster Risk Reduction 2015–30. Over 4,000 participants from around 150 countries, including a number of ministers, will attend the conference in Geneva.
As Switzerland's representative and head of the Swiss delegation, the Director General of the Swiss Agency for Development Cooperation (SDC) Manuel Sager will open the GPDRR. Mr Sager has been granted the title of state secretary for the duration of the conference. The official Swiss delegation consists of 18 people, including representatives of the SDC, the Federal Office for Civil Protection (FOCP), the Federal Office for the Environment (FOEN) and the Federal Office of Meteorology and Climatology (MeteoSwiss), as well as the FDFA's United Nations and International Organisations Division (UNIOD), the State Secretariat for Economic Affairs (SECO) and the National Platform for Natural Hazards (PLANAT). The delegation will also include the mayors of Geneva and Bregaglia and representatives of the Swiss Red Cross (SRC), Zurich Insurance and ETH Zurich.
In addition, a number of federal offices are involved in running the GPDRR and will participate in the various side events. As part of the Innovation Platform, the federal agencies responsible for monitoring natural hazards, namely MeteoSwiss, the FOEN, the Institute for Snow and Avalanche Research (SLF) and the Swiss Seismological Service (SED), together with the FOCP, will showcase how they collaborate on natural hazard warning systems, from collecting and sharing measurement data through to compiling and disseminating alerts to the public, authorities and experts.       
The results in Geneva will feed into the deliberations of the UN High-level Political Forum on Sustainable Development taking place in New York in July and the Climate Action Summit announced by UN Secretary-General António Guterres for September 2019, also in New York. The Geneva conference is the next opportunity for the international community to advance the implementation of the 2030 Agenda's Sustainable Development Goals and the commitments of the Paris climate summit.
---
Further information:
Global Platform for Disaster Risk Reduction

---
Address for enquiries:
FDFA Information
Federal Palace West Wing
CH-3003 Bern, Switzerland
Tel.: +41 58 462 31 53
E-mail: info@eda.admin.ch
Twitter: @SwissMFA
---
Publisher: