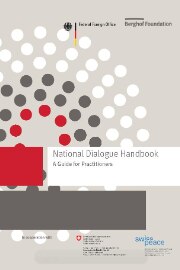 National dialogue can help to resolve conflicts peacefully. At a panel discussion at Geneva Peace Week, international experts will discuss to what extent national dialogue could help to resolve the Syria conflict. The Handbook for National Dialogue will be presented prior to the panel discussion.
Grounded in a series of contemporary case studies, the handbook demonstrates how national dialogue works, how dialogues are started and what must be taken into account. This practical guide – published by the Berghof Foundation – is a pilot project from German-speaking Switzerland. The swisspeace research institute was also involved in its development. The Handbook was funded by the Federal Department of Foreign Affairs (Human Security Division) and its counterpart division at Germany's Federal Foreign Office. All four organisations and government offices also provided input for the Handbook. 
In the discussion – hosted by swisspeace and the FDFA – the panellists will discuss what a national dialogue on the Syrian conflict could or should look like, what conditions would have to be met to set the ball rolling and what opportunities and risks such a dialogue would entail.