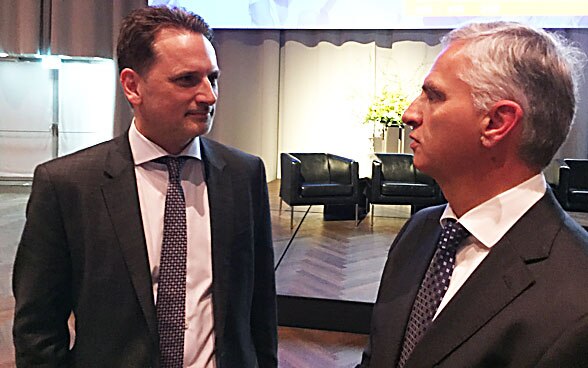 Switzerland's humanitarian responsibility and the particular need to support young people in conflict situations were the key issues addressed at the conference in Bern. In his speech, Mr Burkhalter outlined Switzerland's three priorities in its foreign policy commitment to children and young people, namely providing protection, generating prospects and involving young people as actors. "Young people offer unlimited potential for peace and development and for shaping our future," Mr Burkhalter said, adding that the SDC would be investing even more in education in the field and increasing by 50% its commitment to developing basic education and vocational education and training.  
Mr Burkhalter also discussed the crisis in Syria and welcomed the launch of the fifth round of talks on Syria in Geneva the previous day. He thanked UN Special Envoy Staffan de Mistura and his team for their unflagging commitment and pledged that Switzerland would continue to lend its strong support to the process. He also said that Switzerland would be attending the Syria conference in Brussels on 5 April. Mr Burkhalter went on to talk about the 20 million people at acute risk from hunger in Nigeria, South Sudan, Somalia and Yemen. He announced that, at the UN's request, Switzerland together with Sweden would be holding a conference on Yemen in Geneva on 25 April, intended as a further contribution to tackling the hunger crisis in the region.
SDC Director-General Manuel Sager told the audience of over 1200 – including five national councillors and around 80 representatives of foreign embassies and missions – about his personal experiences and encounters, most notably his visit to one of the biggest refugee camps in the world, in northern Kenya. "My trip to the Horn of Africa in February left me deeply moved, particularly the Kakuma camp, which is home to some 190,000 refugees. They had to leave everything behind and often have no opportunity to work or learn a trade," he said. The SDC's Skills for Life project, which was presented at the conference, aims to counter this worrying trend by giving both refugees and local people in Kakuma the chance to learn a trade. This will enable them not only to earn a living but also to take control of their own futures.
Schoolchildren have their say
A highlight of this year's conference was the opportunity to hear from young people themselves. Classes of schoolchildren from Zimbabwe and Rwanda sent video messages setting out their views on humanitarian principles, while students from Switzerland and Austria took to the stage in person to share their thoughts on humanitarian aid. The schoolchildren had learnt about humanitarian principles by completing learning modules as part of the SDC-initiated Humanity project developed in cooperation with the Swiss Red Cross, the International Committee of the Red Cross (ICRC), the International Federation of Red Cross and Red Crescent Societies (IFRC) and the University of Teacher Education in Zug.
Another highlight of the programme was the panel discussion, in which Pierre Krähenbühl, Commissioner-General of the United Nations Relief and Works Agency for Palestine Refugees in the Near East (UNRWA), Elhadj As Sy, Secretary General of the IFRC, SHA child protection specialist Petra Heusser and Nigerian government representative Dr Ayoade Olatunbosun-Alakija discussed projects that create prospects for young people.
In his closing speech, the Delegate for Humanitarian Aid Manuel Bessler again emphasised the need to look after young people in the here and now. "If their potential is not to be lost, the younger generation needs protection, support and education. After all, they are the ones who will determine our future."
As it does every year, the Annual Conference of Swiss Humanitarian Aid and the SHA offered humanitarian actors and other interested participants a varied programme, illustrating the various aspects of their work in relation to the younger generation. Discussions, presentations and interviews with external humanitarian aid workers and SHA staff gave those attending a range of opportunities to learn about the work undertaken by humanitarian Switzerland to support children and young people in crisis-hit areas.
---
Further information:
Speech by the Federal Councillor Didier Burkhalter
Annual Conference of Swiss Humanitarian Aid and the Swiss Humanitarian Aid Unit
Web dossier
Skills for Life in Kakuma (Kenya)

---
Address for enquiries:
Information FDFA
Bundeshaus West
CH-3003 Bern
Tel.: +41 58 462 31 53
Fax: +41 58 464 90 47
E-Mail: info@eda.admin.ch
---
Publisher: