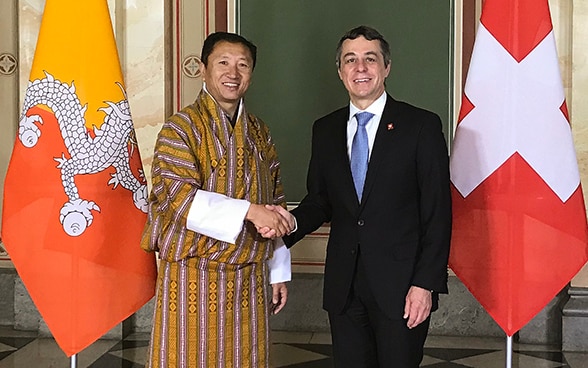 The talks focused on further developing relations between Switzerland and Bhutan. The decades-long relationship in the field of development cooperation has been steadily expanded in recent years. In economic terms, Bhutan no longer qualifies as one of the least developed countries as defined by the UN. Mr Cassis paid tribute to his counterpart for this progress, and raised the matter of the Swiss trade delegation which will travel to Bhutan for the first time in June 2019 and which aims to capitalise on the major potential for growth in economic relations. The volume of trade in goods is currently still low at just CHF 1.1 million.
At the same time, a deepening of political, scientific and cultural relations between Switzerland and Bhutan has also taken place in recent years. Mr Cassis underscored that the institutional framework of the partnership between the two countries has been steadily expanded, for example through a memorandum of understanding on political consultations two years ago and through the working visit of the Bhutanese prime minister to Switzerland last year. The climate change challenges facing both countries were also raised, which are particularly marked in the environmentally sensitive mountain regions, not least because of faster-melting glaciers. Furthermore, Mr Cassis congratulated Bhutan on the progress it has made in the area of human rights and assured his counterpart that Switzerland would play an active role in the Universal Periodic Review of Bhutan at the United Nations Human Rights Council, which will take place in Geneva on 8 May 2019.
The two foreign ministers also discussed the forthcoming visit of Bhutan's National Land Planning Commission to Switzerland, which will take place from 27 to 29 May. The Bhutanese delegation aims, during this visit, to exchange views with Swiss spatial planning experts, with mountain regions at the heart of the discussions. The delegation will visit, among other places, Val Poschiavo, St Gallen and Lucerne to this end. 
---
Further information:
Bilateral relations Switzerland – Bhutan

---
Address for enquiries:
FDFA Information
Federal Palace West Wing
CH-3003 Bern, Switzerland
Tel.: +41 58 462 31 53
E-mail: info@eda.admin.ch
Twitter: @SwissMFA
---
Publisher: