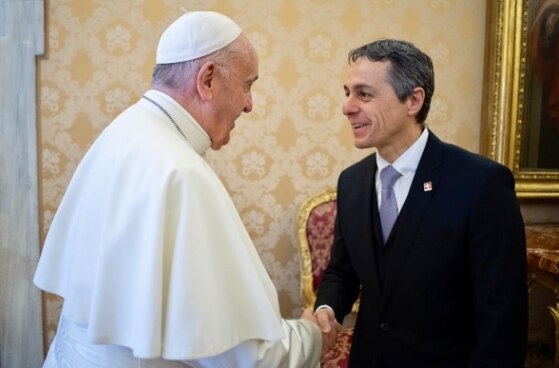 Federal Councillor Ignazio Cassis was received today by Pope Francis in a private audience. The head of the Federal Department of Foreign Affairs later met Archbishop Paul Gallagher, Secretary for Relations with States, with whom he discussed bilateral relations between Switzerland and the Holy See. In their foreign policy, the two states have many points in common, especially in the areas of humanitarian aid and the promotion of peace, and in efforts to abolish the death penalty.
Mr Cassis also met Cardinal Kurt Koch, president of the Pontifical Council for Promoting Christian Unity and Bishop Emeritus of Basel, with whom he stressed the importance of ecumenism and interfaith dialogue in foreign policy, in particular for the prevention and resolution of conflicts.
Tribute to Pontifical Swiss Guard and swearing-in of new recruits
On Monday 6 May, Mr Cassis will pay tribute to the Swiss Guard at the Vatican and attend the swearing-in of 23 new recruits. Established by Pope Julius II in 1506, the Pontifical Swiss Guard serves as protection for the person of the Pope and as guard of honour. Although not a unit of the Swiss Army, the Swiss Guard is the oldest existing formation in Swiss military history, lending prestige to Switzerland's profile in the Vatican.
During the Sack of Rome on 6 May 1527, the Eternal City was attacked by the troops of Emperor Charles V. In a heroic attempt to resist the attack, only 42 of the 189 Swiss Guard survived. However, the surviving guards managed to bring Pope Clement VII to safety at the Castel Sant'Angelo. Even today, in memory of this historical event, the annual swearing-in of new recruits takes place on 6 May.
---
Further information:
Bilateral relations Switzerland – Holy See
Pontifical Swiss Guard

---
Address for enquiries:
FDFA Information
Federal Palace West Wing
CH-3003 Bern, Switzerland
Tel.: +41 58 462 31 53
E-mail: info@eda.admin.ch
Twitter: @SwissMFA
---
Publisher: