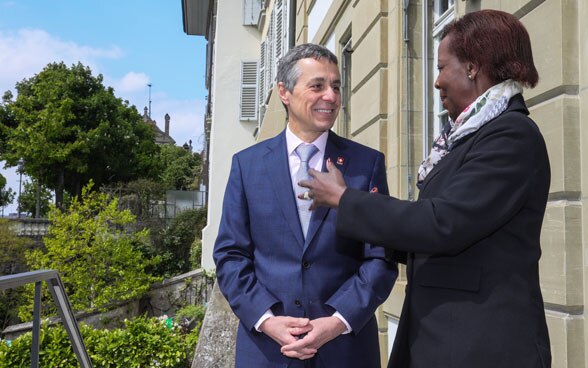 This is Ms Mushikiwabo's first visit to Switzerland since her election as the IOF's secretary-general at the organisation's most recent summit in Yerevan in October 2018.  Mr Cassis and Ms Mushikiwabo discussed the important role the IOF is called upon to play in the international arena in promoting cooperation and solidarity between the five continents. Ms Mushikiwabo outlined her priorities for the next four years, namely peacebuilding, promoting the French language, the integration of young people and women, and digital technologies.

Mr Cassis reaffirmed Switzerland's readiness to strengthen existing cooperation with the IOF, in particular to support electoral processes, work towards the abolition of the death penalty and provide Swiss expertise in dual vocational education and training also comprising collaboration with the private sector. He underscored Switzerland's long experience with multilingualism and proposed closer cooperation in this area. With regard to gender equality, Mr Cassis announced financial support for the conference on girls' education the IOF will organise next June in Chad.

Ms Mushikiwabo will also meet today in Geneva with Federal Councillor Alain Berset, who will reaffirm Switzerland's support for the promotion of multilingualism and in particular the French language around the world.

During her visit Ms Mushikiwabo also met with members of the Swiss Parliamentary Delegation to the French-speaking Parliamentary Assembly (FPA), a consultative body that issues resolutions and recommendations for heads of state and government.  The FDFA and the Swiss delegation to the FPA complement each other very effectively and coordinate their activities on a wide range of issues, for example on efforts to abolish the death penalty.

The IOF currently has 54 member countries, 27 observer states and seven associate members, representing over a third of the UN's member states. Switzerland has been a member of the IOF since 1996. It hosted the Montreux Summit in 2010. Together with Belgium (Wallonia and Brussels), Switzerland is the third largest donor to the IOF, behind France and Canada. Switzerland's statutory contribution to the IOF for 2019 amounts to CHF 4 million. On 10 April, the Federal Council decided to continue the FDFA's voluntary contributions to IOF cooperation programmes in various countries with an allocation of CHF 1.7 million for the years 2020–23.
---
Further information:
International Organisation of the Francophonie

---
Address for enquiries:
FDFA Information
Federal Palace West Wing
CH-3003 Bern, Switzerland
Tel.: +41 58 462 31 53
E-mail: info@eda.admin.ch
Twitter: @SwissMFA
---
Publisher: