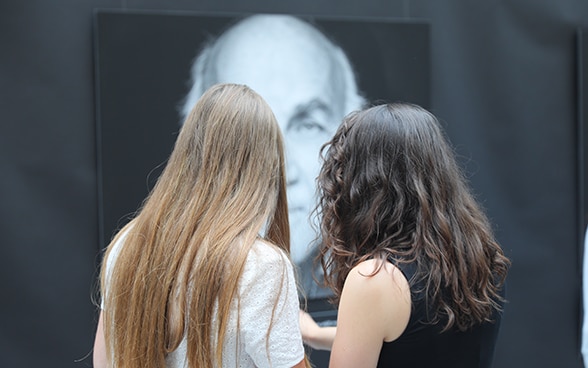 The conference room where the first plenary meeting of the International Holocaust Remembrance Alliance (IHRA) was held on Monday 26 June under Switzerland's chairmanship drew a large crowd. Holocaust survivors and school students from Biel and Geneva had come to the conference to discuss a project the students had taken on: to produce French translations of five notebooks written in German by Holocaust survivors. 
The first to speak was Holocaust survivor Ivan Lefkovits. He asked a question that went to the heart of the project: "Should we continue to pass on the legacy and memory of the Holocaust to younger generations? Shouldn't we close this chapter of history and look to the future?" His question met with complete silence. 
After a short pause, Ivan Lefkovits said: "There are at least two reasons why we must continue to fulfil our obligation to pass on the memory of the Holocaust to future generations. The first is that those of us who can bear witness must do so on behalf of the 6 million who cannot (editor's note: nearly 6 million Jews were murdered in Europe during the Second World War). The second is that bearing witness to what happened may help prevent it from ever happening again."
Our responsibility was to find just the right words 
Asked what they took away from this experience, the students all agreed that the project was an enriching experience.  The words they kept coming back to were 'feelings', 'difficult' and 'bearing witness'.
A group of school students from Biel translated the memoirs of Klaus Appel: "One morning there was nobody left". In their own words: "We are very aware that doing this was a real privilege. We were the last school class to have met with Mr Appel (editor's note: Klaus Appel died on 13 April). Mr Appel had an incredible strength about him. We were very sad to hear that he had passed away and to realise that we would not be able to present him with the final version our translation. But before he died we were able to read him some passages of our French translation. It was a moving experience for him."
The students also emphasised how difficult it was to translate the texts: "Our responsibility as translators was to find just the right words to translate the story he told us and the feelings he expressed from German into French. It was not an easy task. But we learned a lot from this experience. We must keep his story alive and make it part of our lives."
Sufficiently mature to tackle the subject of the Holocaust
The students from Geneva who translated the notebook memoirs of Fabian Gerson, entitled "No Goodbyes", found it fascinating to approach an individual's story "from every angle". 
Christa Markovits, who met with students from another class in Geneva, remarked: "I was impressed with their work.  The students didn't ask me any personal questions during our meetings, and kept coming back to the same question: "Did you hate the Nazis?" When I told them that I was not capable of hating them, they were astonished."
Their teacher emphasised the importance of this type of project as "another way of approaching history". She also explained that a project such as this one requires forethought and preparation: "My class was mature enough to tackle the subject of the Holocaust and also had a sufficient level of German to carry out the translations."