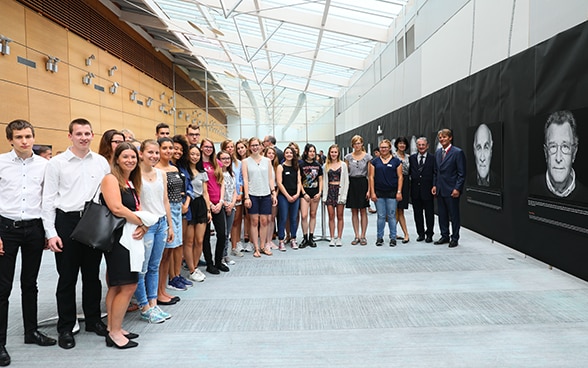 'Education', 'youth' and 'social media' are among the priorities that Switzerland will give special attention to during its chairmanship of the IHRA. The question of how young people can be informed about the Holocaust and develop their awareness of what racism and anti-Semitism can lead to becomes all the more urgent as the number of Holocaust witnesses dwindles with time. For this reason, Switzerland has supported projects by the pupils of two school classes in Geneva and Biel/Bienne who have translated the memoirs of Holocaust survivors. At an event organised by the Swiss IHRA chair today, pupils from both classes presented their work and recounted their experiences. "This engagement by the school classes is a very good example of how young people can approach and deal with the subject of the Holocaust. Holocaust remembrance is not only about the past – it is no less important to become aware of what the consequences can be of the systematic discrimination, humiliation and exclusion of others both in the present and future," said the current chair of the IHRA, FDFA Secretary-General Benno Bättig. 
The event organised by Switzerland in Geneva was attended by Ivan Lefkovits, a Holocaust survivor, as well as by members of the Swiss delegation, representatives of the Federal Administration, cantons and non-governmental organisations.
Through its chairmanship of the IHRA, Switzerland underscores its long-standing commitment to education and research into the Holocaust and the memory of the victims.  For the period of its chairmanship from March 2017 to March 2018, it has set the themes of education, youth and social media as priorities. In November 2017, the Bern University of Teacher Education will host an IHRA conference on the massacre of people with disabilities carried out by the Nazi regime. At the beginning of 2018, teaching about and learning from the Holocaust will be the topic of the international study days on education at the University of Teacher Education in Lausanne.
At the plenary meeting, which the IHRA is holding from 26 to 29 June 2017 in Geneva, the talks will focus on education and research about the Holocaust and the challenge today of keeping the memory alive. The delegates of the 31 IHRA member states, 11 observer states and seven international partner organisations will also discuss issues such as the protection and maintenance of sites connected to the Holocaust, as well as good examples of teaching materials on the subject of the Holocaust.
The IHRA was founded in 1998 with the aim of promoting research and education into the Holocaust and of keeping alive the memory of the victims through commemorations and memorials. Switzerland has been a member of this intergovernmental organisation since 2004. Institutional partners of the IHRA include the UN, the Council of Europe, the Office for Democratic Institutions and Human Rights of the OSCE and UNESCO.
---
Further information:
Swiss IHRA chairmanship
International Holocaust Remembrance Alliance

---
Address for enquiries:
Information FDFA
Bundeshaus West
CH-3003 Bern
Tel.: +41 58 462 31 53
Fax: +41 58 464 90 47
E-Mail: info@eda.admin.ch
---
Publisher: