Stories from the South and East on the Zurich stage
The Zürcher Theater Spektakel will welcome international artists from the Global South and East from 18 August to 4 September 2022. The Swiss Agency for Development and Cooperation (SDC) has a long-standing partnership with the festival aimed at supporting artists from the Global South and East. The stage lights come on and we are instantly transported to Kenya with theatre maker Wanjikũ Mwawuganga.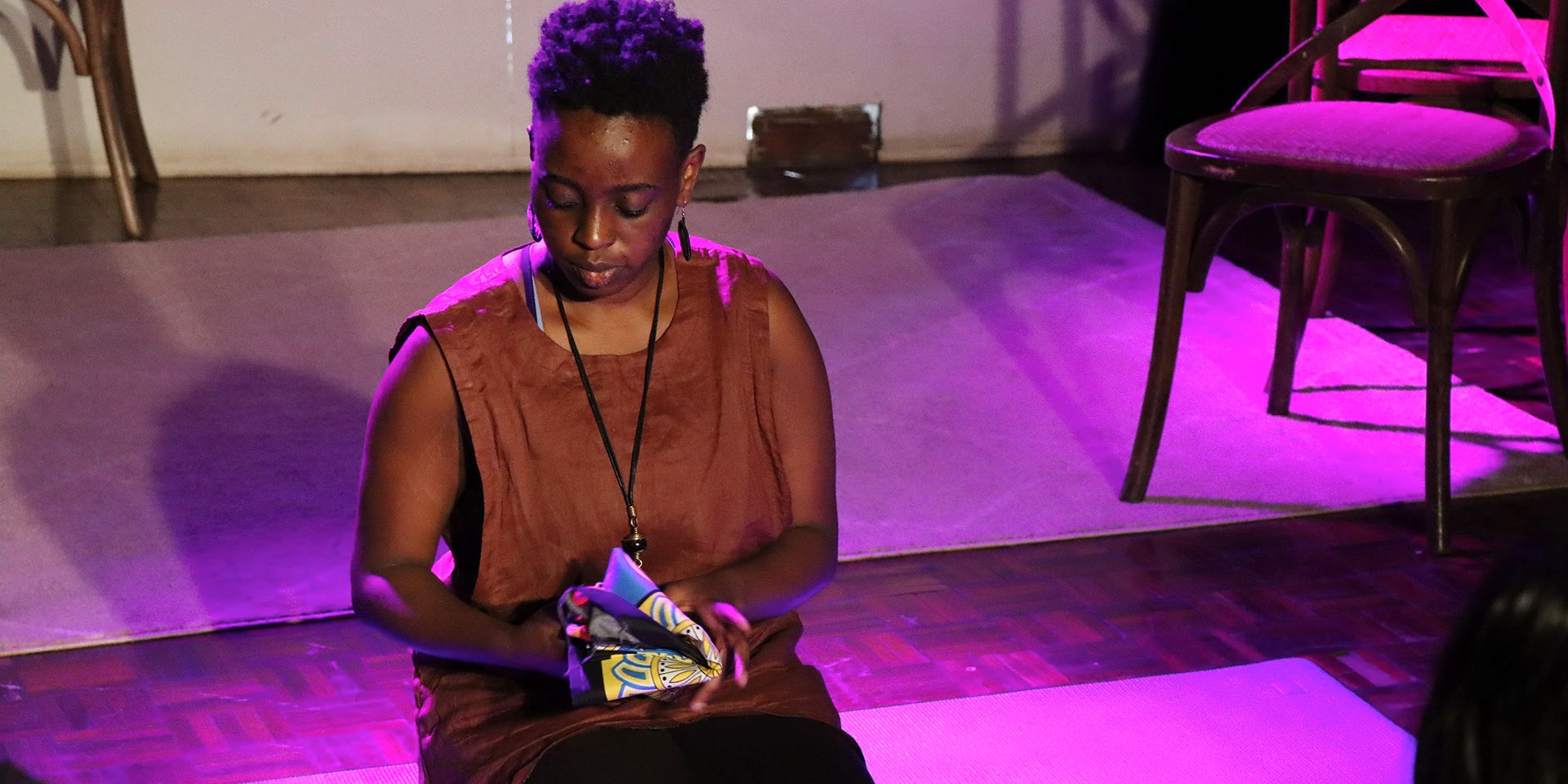 Mwawuganga is sitting on the stage. In front of her are some scenic props. © Steenie Njoroge.
Wanjikũ Mwawuganga appears alone onstage. Photographs, voices and sounds join her on stage and women who have been part of her life talk with her about birth and motherhood. Mwawuganga's performance at the Zürcher Theater Spektakel immerses audiences in the history and culture of generations of women, mothers and daughters from her homeland, Kenya. 
"Taking part in this festival allows me not only to engage with artists from different parts of the world, but also with hugely talented artists from my own continent, Africa, that I would in all likelihood never have had the opportunity to meet," explains Mwawuganga. In Kenya, she is a member of the Maabara collective, a workshop that helps artists create work in a safe environment that encourages experimentation. "Thanks to the support of Zürcher Theater Spektakel, we launched our programme for emerging artists in April this year, with a first group of participants," adds Mwawuganga.
In bringing 'Roots' to the stage in Zurich, the Kenyan artist confronts her experience with post-natal depression and engages in a search for identity through four generations of women in her family. "After we staged the play in Munich last year, I had the wonderful experience of connecting with mothers from different parts of the world. I hope that audiences in Zurich will also recognise themselves in my work," she adds. 
From the stage to local and global challenges
Mwawuganga also stressed how important it was to introduce her work to Swiss and other European audiences in order to connect them with little known cultures and realities far removed from their own. It is precisely such opportunities for encounter and dialogue with and among artists from the Global South and East that the SDC seeks to foster through cultural partnerships such as this one with the Zürcher Theater Spektakel. The countries where the SDC operates have limited funds to promote art and culture. Moreover, in this time of huge global challenges it is even more important to allow the voices of cultural practitioners from these parts of the world to be heard. "The insights offered by artists into global and local challenges can help both individuals and society fulfil their developmental potential. By facilitating access to their work, we are promoting tolerance and helping to preserve cultural diversity," notes Christine Schneeberger, deputy head of Global Cooperation at the SDC. "By cooperating with cultural institutions in Switzerland, the SDC not only provides these artists with easier access to the international arts scene but also strengthens the art scene in their countries," she adds.
Bringing together the festival organisers and SDC staff working in different parts of the world creates greater synergies around themes and goals. "The areas covered by SDC staff in their work and the wealth of experience they bring align with our interests, leading to new collaborative partnerships. For us it's not only a discussion about art, but also about artists, their stories and the social and political realities that are part of who they are," explain Sarah Wendle and Matthias von Hartz, co-directors of the Zürcher Theater Spektakel. 
Greater visibility for artists
Mwawuganga's play is part of 'Short Pieces', a format in which theatregoers watch several short plays or dance pieces over the course of an evening. This allows artists whose work is still in progress to participate in the festival, perform before live audiences and fellow professionals, and benefit from their feedback. "Artists who don't have the resources or opportunity to produce multiple-act plays in their own country now have access to the Western performing arts market. Numerous artists from the Global South and East have gained greater visibility and found partners for other works-in-progress or projects," explain Wendle and von Hartz.

New ways of making art
"Theatre is a platform that opens up all kinds of possibilities," says artistic director Matthias von Hartz, providing an apt definition of theatre. Its power is felt during the most difficult times, such as the pandemic. The pandemic has thus been an opportunity to explore new ways of bringing art from afar to Switzerland. "Ogutu Muraya from Kenya and Muschaandja Nashilongweshipe from Namibia are just two of several artists whose novel forms of artistic expression acquainted audiences in Zurich with their work at a time when foreign travel was not an option for most people," says von Hartz. "The Ligna group invited thirteen international choreographers, mainly from the Global South and East, to contribute videos, which were subsequently shown in various public spaces in Zurich by the festival audience itself."

Through its cultural partnerships, the SDC encourages not only artistic creation but also the creation of more favourable conditions for artists as well as training and access to art and culture for all.