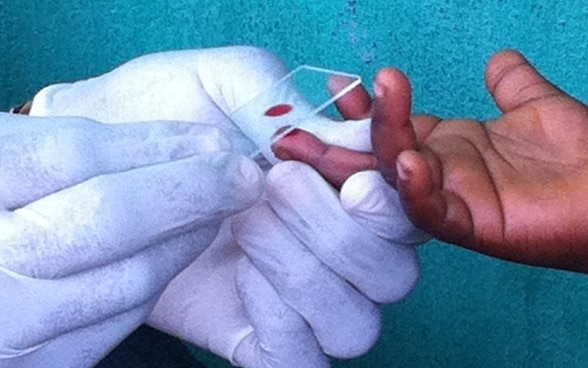 On the occasion of the 10th anniversary of World Malaria Day, the Swiss Malaria Group and its members organize a roadshow across Switzerland during the week leading up to World Malaria Day.
The roadshow shows surprising examples how Swiss Malaria engagement transforms the world by contributing to the Agenda 2030 for Sustainable Development. The aim of the World Malaria Day Switzerland is to raise awareness on the importance of Swiss engagement for a malaria-free and healthier world.
On the 24th of April, the Swiss Malaria Group members with headquarters in Bern, the Swiss Agency for Development and Cooperation and the Swiss Red Cross, welcome special guests from politics as well as national celebrities to discuss how reducing malaria leads to more equal opportunities.
Malaria remains a heavy burden on the world. For the first time in many years, the disease is resurging in several countries. Most of the 445,000 lives lost in the last year were those of young children. A child dies from malaria every two minutes. The commitment of Swiss science and research in the fight against this deadly disease has shown success at many levels. Yet as progress in the fight against malaria is stalling, it urgently needs sustained engagement and increased investment to stop vulnerable people dying from this disease.
A national roadshow of events takes place between the 17th and the 24th of April in major Swiss cities. The events culminate in a publicly open high-level event in Geneva on the 25th of April 2018, co-hosted by the Swiss Malaria Group and the RBM Partnership to End Malaria.
Please save the dates:
24th of April 2018: Bern, Public Event at Unterer Waisenhausplatz, 12.15pm-1.15pm

25th of April 2018: Geneva, Ceremony at Place des Nations and a public high-level roundtable at the Graduate Institute, 4pm-7pm
About the organizer: The Swiss Malaria Group is a Swiss network uniting private, public, research and civil society organisations to provide leadership for a malaria-free world. The Swiss Agency for Development and Cooperation and the Swiss Red Cross are among its members.