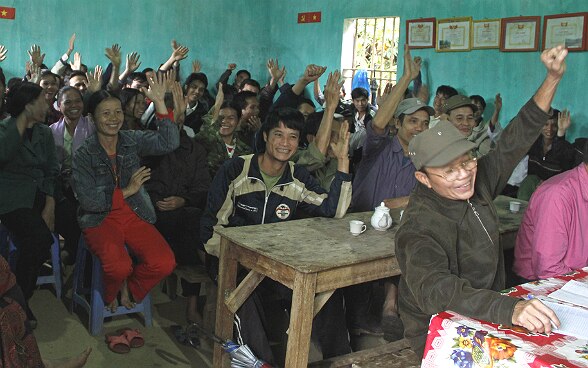 As 2016 came to a close, so too did 25 years of SDC bilateral cooperation in Vietnam. Swiss support there is now in the hands of SECO, which has included Vietnam among its priority countries for economic cooperation since 2008. The SDC's future involvement in Vietnam will be solely in the context of regional programmes and interventions in specific theme areas, such as food security, water management or climate change. Meanwhile, the FDFA's Human Security Division will continue its human rights dialogue with the Vietnamese government. 
Why has the SDC ended its bilateral cooperation in Vietnam? And what conclusions can be drawn? Vietnam has made substantial progress in poverty reduction and institution building. So much so, in fact, that it joined the group of middle-income countries in 2010 and, compared with other priority contexts, no longer met the SDC's criteria for long-term engagement. Withdrawing from Vietnam leaves the SDC with more resources to invest elsewhere, such as in Africa.
Participatory democracy
In its 25 years in Vietnam, the SDC invested a total of CHF 216 million in some 30 projects. The decision to end its presence there was based on some extremely gratifying results, as noted in an external evaluation commissioned by the SDC. Several projects have contributed to a growing culture of participatory democracy, at least in the regions concerned. Hundreds of thousands of villagers are now regularly involved in drawing up local development plans – quite an achievement in a country known for its very centralised regime. 
For example, the electorate voted on which local investments to prioritise and participated in decisions to build or renovate almost 3,500 infrastructure projects (roads, bridges, pipelines, schools and crèches, public toilets, cultural centres, etc.).
Asia Brief «For the first time we can ourselves decide what we really want!» (PDF, Number of pages 4, 654.8 kB, English)