Practical information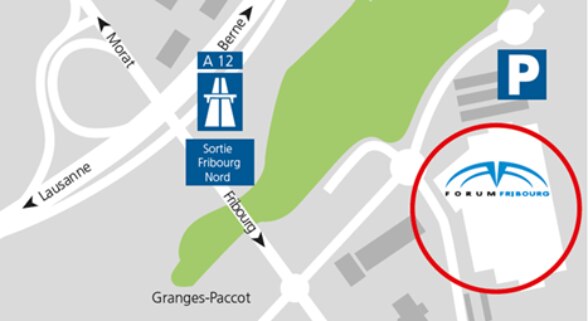 The conference will take place on 21 June 2019 at Forum Fribourg. Doors open at 12:00 and the conference starts at 13:00.
How to get there
Public transport (recommended)
Train to Fribourg station. Between 11:45 and 12:45: shuttles will depart from the TPF bus station, platform 25.
Outside this time: bus no. 1 at Place de la Gare (direction Portes-de-Fribourg), stop at Forum Fribourg (10 minutes from Fribourg station).
By car
Forum Fribourg is located 300m from motorway exit no. 8
'Fribourg Nord' (A12). GPS address: Route du Lac 12, 1763 Granges-Paccot. The Forum has 700 (paying) parking spaces.
Costs and meals
The conference is free and open to all interested parties. A light lunch will be served at noon and a networking drinks reception will be provided at the end of the conference.
Languages
French, German and English – with simultaneous interpretation into these languages and Italian.
Registration
Interested parties are requested to register by 10 June 2019. Please consider your registration as definitive.
No confirmation will be sent.
Exhibition
The participants in the 'Together we're better' contest will present their projects in the exhibition area. The exhibition will open at 12:00 and can be visited during the break and the drinks reception.