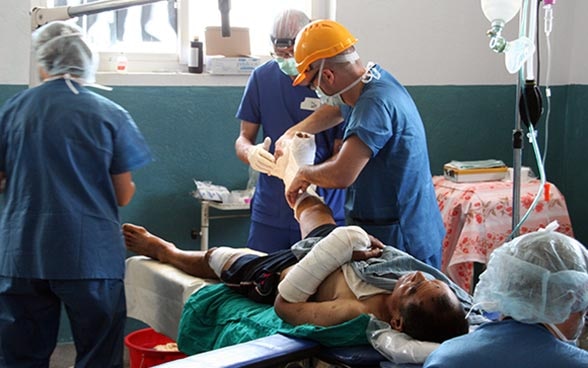 Swiss Humanitarian Aid is sending a cargo aircraft with 38 tonnes of relief supplies to the stricken area as soon as landing permission is granted by the Nepalese authorities. Besides approximately 30 tonnes of humanitarian aid supplies, the aircraft is also transporting almost 2.8 tonnes of relief supplies on behalf of Terre des Hommes and 4.3 tonnes for the Swiss Red Cross.
For Swiss Humanitarian Aid, the aircraft is carrying 30 urgently-needed large multi-purpose tents as well as 2,000 tarpaulins for constructing emergency shelters. The consignment also includes 1,000 cooking sets, each sufficient for a family of five, and 1,500 sleeping mats. To prevent the spread of disease, water needs to be purified as quickly as possible, which requires chlorine. This can be produced using water, salt and electricity thanks to 50 modules that are also part of the consignment. Electricity is currently a rare commodity in the area struck by the earthquake, which is why generators, solar panels and batteries are also on board. Twenty-eight transportable tests make it possible to test the effectiveness of the water treatment. The 50 modules are designed to purify 200,000 litres of water per hour, enough for about 15,000 people.
In addition, the consignment includes approximately one tonne of medical supplies. With this "IDA kit", a hospital can treat as many as 10,000 people for three months. Furthermore, the ten members of the "Mother and Child" team deployed to the region on Tuesday will be supplied with additional materials. The highly mobile medical team, which can be deployed on very short notice, has been carrying out surgical procedures on children and adults in the hospital in Gorkha and providing support to women in childbirth for two days. On Thursday the team carried out 13 minor medical procedures and 6 operations and assisted in 5 births. The number of patients from surrounding villages is also rising daily.
Three logistics staff and an IT and telecommunications specialist will also travel on the flight to reinforce the Swiss team on the ground, which currently numbers 27 staff. Accordingly, the aircraft is also transporting nearly half a tonne of IT equipment, needed to facilitate communication between the FDFA's head office in Bern, the embassy in Kathmandu and the teams in the rural areas.
---
Further information:
Nepal (Swiss Agency for Development and Cooperation SDC)

---
Address for enquiries:
Information FDFA
Bundeshaus West
CH-3003 Bern
Tel.: +41 58 462 31 53
Fax: +41 58 464 90 47
E-Mail: info@eda.admin.ch
---
Publisher: