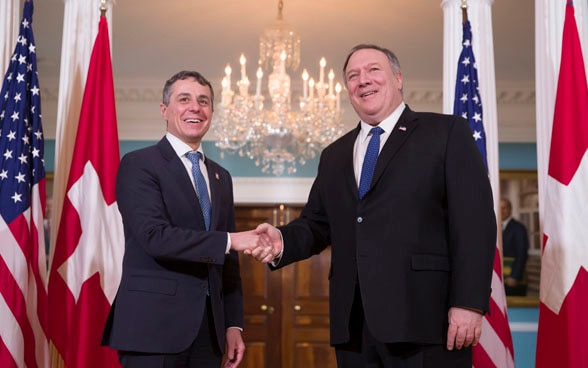 Federal Councillor Ignazio Cassis also raised a number of economic issues of interest to both countries. In particular, he discussed the possibility of a bilateral Swiss-US free trade agreement. "The discussions were fruitful and encouraging. I received assurance that the US government is interested in exploring such an agreement. It is now up to Switzerland to present some concrete proposals," stated Mr Cassis. He added that Switzerland is particularly appreciated in the US for the quality and quantity of its investments there, especially in the high-tech sector. Switzerland is also recognised for the quality of its education system and its expertise in apprenticeships.
In regard to international politics, Iran was the main topic of discussion. The US thanked Switzerland for its role in relation to the protecting power mandate. "Switzerland will continue to engage in this process to seek constructive solutions, especially to prevent a humanitarian crisis in Iran," stated Mr Cassis. He also exchanged views with US officials on the situation in Venezuela. "I have taken note of the position of the United States and reaffirmed our position. We continue to monitor the situation closely as it evolves and are prepared to take decisions should this become necessary," he said.
The situation in the Middle East and multilateral politics were also on the agenda for Mr Cassis's meetings with various other US officials. Switzerland and the United States agree on the importance of multilateral politics and support the reforms proposed by Secretary-General of the United Nations António Guterres to improve the UN's working methods. In addition, Mr Cassis stressed the positive role that Geneva can take in resolving global issues.
During his visit to Washington, the head of the FDFA also met with US citizens who have a particular link with Switzerland, such as Jerome Adams, Surgeon General of the United States, Thomas Zurbuchen, associate administrator for the Science Mission Directorate at NASA, Ulrich Brechbühl, Counsellor of the US Department of State, and Dorothy Kosinski, former curator of the Kunstmuseum Basel and director of The Phillips Collection. More than one million US citizens have Swiss roots.
---
Further information:
Bilateral relations Switzerland–United States of America

---
Address for enquiries:
FDFA Information
Federal Palace West Wing
CH-3003 Bern, Switzerland
Tel.: +41 58 462 31 53
Fax: +41 58 464 90 47
E-mail: info@eda.admin.ch
---
Publisher: