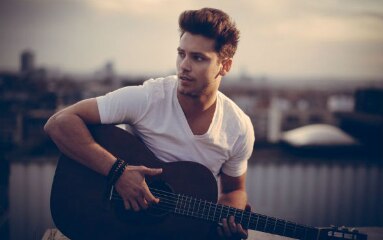 Music has always been a part of Bastian Baker life,even as a young boy when music wasn't at the centre of his preoccupations, he lent his voice to a school choir. Today, at only 24, he already sings on Switzerland and Europe's biggest stages with the self-confidence of experienced performers.

To find the first signs of his artistic destiny, a close look at his teen years must be taken; he had his own secret garden, accompanied by just a guitar and a pen. His first texts and his first chords date back to when he was 15, which already gave a glimpse of a possible breakthrough.

It wasn't long before coming. Discovered by Patrick Delarive, who decided to support him, the singer released a first single, "Lucky", in 2011. Its success is a veritable explosion: the memorable pop-folk melodic lines are all over the radio. A new name, coming out of nowhere, is carving its way into the musical landscape; the young man writes, composes, arranges and produces his musical dreams. In April of the same year, his encounter with Claude Nobs, the late and missed founder of Montreux Jazz Festival, is an artistic and human revelation. As the young artist was performing in a bar in Zermatt, the great connoisseur recognized his talent and invited him on the off stage of his festival a few months later. In the meantime, the singer sharpens up his knives and impresses the crowds at other Swiss and French festivals.

The album that truly launched his career, "Tomorrow May Not Be Better", was released in September 2011. It followed up with the success achieved by "Lucky", while keeping the same artistic direction: mind-blowing melodic immediacy, strong voice and fine arrangements. The three singles "I'd Sing For You", "Tomorrow May Not Be Better" and "Hallelujah" – a Leonard Cohen cover – were and still are big hits. In Switzerland, the album sold like hot cakes (45,000 copies sold), and it is also an export hit in France (35,000 copies sold) and Belgium (10,000 copies sold).

In spite of his short career, he obtained numerous other praises and rewards. On the French TV show Taratata, and he enchanted the presenter, Nagui. He also won five Swiss Music Awards in three years and was elected Switzerland's third favourite celebrity after a public vote during the 2012 and 2013 Swiss Awards. He performed at the NRJ Music Awards in 2013.
The following two years after Bastian Baker's first breakthrough have given him the opportunity to play at opposite sides of the globe; in Japan, Russia, USA and in Europe (England, Germany, France, Belgium). A musical journey that is bound to take him further.
Shanghai, 9th March 21.00, Wooden box cafe
Beijing, 11th March 21.00, DDC, for ticket and information, please click here.
Hong Kong, 13 March 21.00, Kee Club