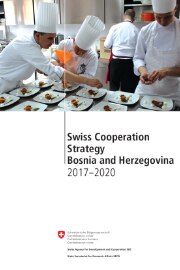 The Swiss Cooperation Strategy Bosnia and Herzegovina 2017-2020 is the expression of Switzerland's renewed commitment to continue its longstanding partnership with Bosnia and Herzegovina.
The overall goal of the Swiss Cooperation Program is to provide more and better economic, social and political opportunities and perspectives to the people of Bosnia and Herzegovina. In the spirit of our long term commitment and engagement, the main domains remain unchanged: Health, Economy and Employment, as well as Democratic Governance, Municipal Services and Justice.
This Strategy has been carefully elaborated in discussion between the Swiss Government, mainly acting through the Swiss Agency for Development and Cooperation (SDC) and the Swiss State Secretariat for Economic Affairs (SECO), and our partners in Bosnia and Herzegovina. It represents the Swiss offer for partnership and cooperation with Bosnia and Herzegovina over the coming four years.
The Embassy of Switzerland in Bosnia and Herzegovina remains interlocutor for the implementation of the strategy.