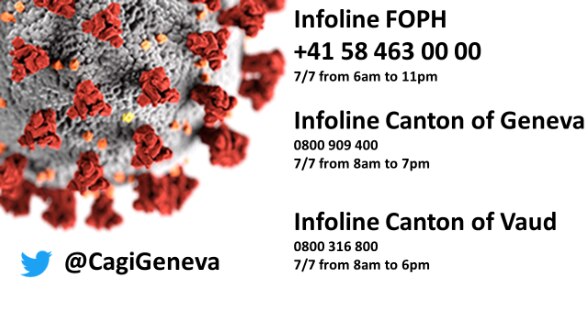 Since the beginning of the crisis, the Swiss Mission informs the permanent missions and the international organisations about the decisions of the Swiss authorities that have an impact on their operations and the daily lives of their staff members. This page offers a summary of the information and is regularly updated.
The Swiss Federal Council has decided on various measures to limit the spread of the coronavirus and protect the population. In accordance with the Ordinance on Measures during the Special Situation to combat the COVID-19 Epidemic, Swiss cantons may take stricter or additional measures to those of the Swiss Federal Council. The federal and cantonal measures in force are listed in a summary table (XLSX, 22.9 kB, English) (status as at 03.12.2021).
The Swiss authorities ensure that measures are continuously adapted and proportionate to the reality of the global health crisis, in order to protect the entire resident population, including the international community. Permanent missions and international organisations, regardless of their status, must respect the legislation of the Host Country. In view of the health situation, they and their staff members are expected to comply with the defined rules and protective measures.
The rules governing entry into Switzerland, as well as health measures and border controls, are explained in two information notes, which are regularly updated according to the decisions of the Swiss Federal Council. An information note on the issuance of a Swiss Covid certificate to persons who have been vaccinated abroad is also available.
For any additional or specific questions, permanent missions and international organisations are invited to write to the e-mail address dedicated to coronavirus: missionsuissecovid19@eda.admin.ch
Coronavirus infolines:
Federal Office of Public Health - FOPH
State Secretariat for Migration - SEM
Cantons
Federal legal basis: