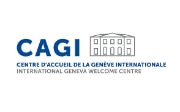 As a unique entry point for newcomers working for International Geneva, the International Geneva Welcome Centre (CAGI) was founded in 1996 by the Swiss Confederation and the Republic and Canton of Geneva and is supported by more than 30 national, local, public and private entities.
The CAGI's mission is threefold:
1. Reception and integration in Geneva and the Lake Geneva region of people employed by international organisations, non-governmental organisations, diplomatic missions and consulates, multinational companies, as well as doctoral students and professors at the University Hospitals of Geneva (HUG) and the University (UNIGE), by offering them and their families appropriate services for their installation and stay,

2. Accommodation of delegates from developing countries to facilitate their stay during their participation at conferences, training sessions or working meetings within the framework of international Geneva,
3. Advice and assistance to NGOs with a view to their installation and maintenance in Geneva, in conjunction with the concerned cantonal authorities.
Through its mission, the CAGI thus contributes fully to strengthening the influence of Geneva as the main centre of international cooperation.
Adress and opening hours

Centre d'Accueil de la Genève Internationale (CAGI)
«La Pastorale»
Route de Ferney 106
Case postale 103
CH-1211 Genève 20
Tel. +41 (0)22 546 14 00
email: welcome@cagi.ch
From Monday to Thursday, 9am - 12pm and 2-5pm

Please make an appointment out of these time slots.