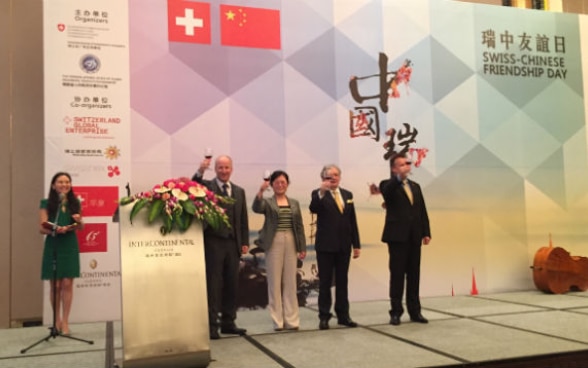 The friendship between Switzerland and China has a long history. Switzerland was one of the first Western countries to recognize the newly founded PRC on 17th January 1950 and to establish diplomatic relations on 14th September 1950. Along the way, the first Sino-Foreign Joint Venture was with the Swiss company with Schindler in 1980. Moreover, Switzerland was among the first to recognize China as a full market economy in 2007. The Consulate General of Switzerland in Guangzhou pays a great attention to communicate and exchange with all of the six provinces within its consular area and strengthen the ties between Switzerland and China.
Photo exhibition China Between Yesterday and Tomorrow
On the morning of May 29, the photo exhibition China Between Yesterday and Tomorrow was opened to public at Fujian Museum. Swiss Ambassador to China Jean-Jacques de Dardel  and Counselor of  Fujian Foreign Affairs Office Chu Yanli delivered speeches at the opening. The exhibition shows 65 pictures taken by the well-known Swiss photographer Fernand Gigon during the 1950s in China. Fernand Gigon was a writer, theater author, film reviewer and photographer. He received the authorization to travel to the Middle Kingdom already in the 1950s. After long stays in various cities and regions, he publicized a book in 1957 entitled "China - this Eternity" in which he gave western readers a deep insight into the everyday life, the political and social development, the imminent challenges as well as the thinking and the culture of the Chinese population. Gigon did not only write detailed reportages and essays, he also used photographs to explore the country and to keep his experiences in pictures. His inconspicuous observations show respect for the photographed people who also keep their pride and dignity under difficult conditions. Gigon's photographs are characterized by the sense of the beauty and tribulations of everyday life.
Venue: Hall 11, 2F, Fujian Museum, No.96, Hutou Street, Gulou District
Time: May 29, 2015 – June 28, 2015 (Closed on Monday)
Opening Ceremony: 10:00, May 29, 2015
Seminars
Three seminars on trade, travel and energy were held at the Swiss International Hotel in the afternoon, Swiss Ambassador to China Jean-Jacques de Dardel and Director of Fujian Foreign Affairs Office Song Kening opened the seminars and addressed to the audiences. The seminar held by Switzerland Global Enterprises, was titled "Switzerland, your Gateway to the European Market", aiming to promote Switzerland as an attractive investment location and destination for Chinese enterprise. Switzerland Tourism made a presentation named "Travel trade seminar: Welcome to Switzerland", which allowed the Chinese guests to learn about the latest trends in the Swiss tourism industry. Swissnex China held a seminar called "Sustainability and Energy". The seminar was intended to discuss common and diverging problems on Energy, such as renewable energy, energy efficiency and energy saving.