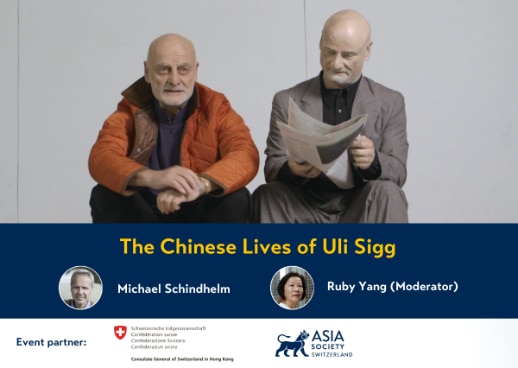 Rundown
18:15 Registration
18:30-19:55 Documentary Screening
19:55-20:30 Dialogue
The documentary, The Chinese Lives of Uli Sigg, brings us into a Swiss businessman, diplomat, and art collector's journey in exploring his admiration towards Chinese contemporary art. How does Uli perceive the Chinese art landscape? What is his vision of contemporary arts? What was his journey as a Swiss diplomat in China? Art Historian and scholar, Michael Schindhelm, presents the thoughts and influence of Uli Sigg vividly on the screen. Not only did Michael bring in the modern narratives of art, but also creating a communication channel in showcasing the characteristics of different cultures. The event is a documentary screening of The Chinese Lives of Uli Sigg, followed by a conversation between the Director, Michael Schindhelm, and Filmmaker Ruby Yang.
Synopsis of the documentary:
The Swiss Uli Sigg had an impact on China's shift in economic policy after the Mao era; he has also established the world's most significant collection of contemporary Chinese art. The majority of this collection will be transferred to Hong Kong's M+ museum, due to open in 2019. A documentary about the entrepreneur, diplomat, and art collector Uli Sigg, and the tense sociopolitical context of China's ongoing transformation since the 1970s.
Michael Schindhelm (1960) is a German-born Swiss national based in Ticino, Switzerland. He is a writer, filmmaker, curator and a cultural advisor for international organizations (incl. Dubai Culture & Arts Authority, UAE; West Kowloon Cultural District, Hong Kong; Strelka Institute, Moscow; Skolkovo Innovation Center, Moscow; Zurich University of the Arts, Zurich; European Capital of Culture Dresden 2025, Germany; Tempelhof Projekt, Berlin, Germany; Diriyah Gate Development Authority, Riyadh, Saudi Arabia.) Since 2008 he was founding director of the Dubai Culture & Arts Authority, UAE. Prior to this he was founding General Director for the Berliner Opernstiftung, Germany (2005 – 2007) and CEO and Artistic Director of the Theater Basel, Switzerland (1996 – 2006).
Ruby Yang is an Academy Award winner for the Documentary Short Subject, The Blood of Yingzhou District (2006). She is also known for directing the Oscar-nominated documentary short The Warriors of Qiugang (2010) and the award-winning feature documentary My Voice, My Life (2014). Yang is a member of the Directors Guild of America and the Academy of Motion Picture Arts and Sciences. She now heads the Hong Kong Documentary Initiative at the University of Hong Kong, which aims to nurture the next generation of documentary filmmakers in the region (moderator). 
Got Questions? Ask them here in advance (beginning October 5) or during the program:

https://app.sli.do/event/ha1assaa (code: #UliSigg)