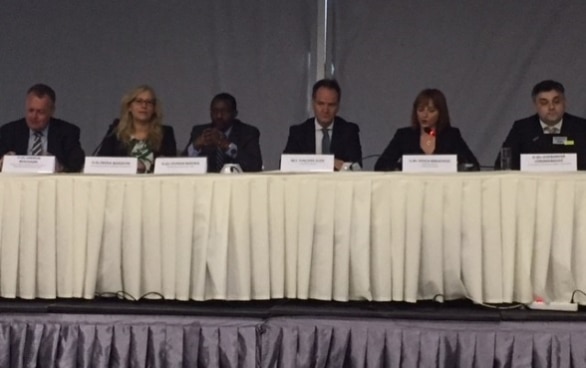 The launch of the Public Sector Accounting Reform project took place on June 18th with a one-day event organized in Belgrade. The event was an opportunity to gather international and Serbian experts in the field of public finance and accounting. Two panel discussions covered topics such as the reform of the accounting system in Serbia, as one of the key processes in the overall public finance management reform, as well as the challenges that the public sector faces in the implementation of such an extensive reform. 
The significance of this reform was also testified by the fact that opening remarks at the launching event were given by H. E. Swiss Ambassador to the Republic of Serbia, Mr. Philippe Guex, and the Director of the World Bank Office for Serbia, Mr. Stephen Ndegwa. One of the key speakers of the event was Andreas Bergman, Professor from the Institute of Public Management, Zurich University of Applied Science. Panelists reminded the public about the time needed to implement this important reform, as well as the significance of political commitment and involvement of a wide range of stakeholders. 
The Public Sector Accounting Reform project is designed to gradually step from cash based to accrual based governmental accounting. Harmonized accrual-based government accounting improves transparency, accountability and comparability of financial reporting. In addition, the project focuses on modernization of the Treasury Administration in the field of public accounting and financial reporting. Such modernization is an important step in the European integration process.

The Swiss Confederation supports the public accounting reform with EUR 1.8 milion and collaborates closely with the World Bank as implementing partner, who is assisting the Treasury Administration with expert support and technical expertise.