Welcome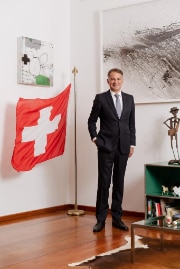 Mabuhay!
Ever since I entered the Philippines, I have been welcomed by a warm-hearted "Mabuhay". Our Pinoy colleagues told me that it doesn't only mean "hello", but that the word can be also used to praise or commend someone, and to wish somebody a "long and good life".
Longstanding and good - this is how I would spontaneously describe the state of Swiss – Philippine relations. It was back in 1862, when the first Swiss consulate in Asia was opened in Manila. Over the time, we have created a solid base of bilateral agreements setting the framework for constructive cooperation, dialogue and exchange. One recent example is the now implemented Free Trade Agreement between the Philippines and the European Free Trade Agreement (EFTA), of which Switzerland is a member, which is expected to boost our economic partnership further with more trade in both directions.
I am very pleased to note that the Philippines and Switzerland cooperate on many issues. Let me highlight two areas which are emblematic for our cooperation: peace and disaster risk reduction. Committed to foster stability and sustainable development worldwide, Switzerland has been supporting the Bangsamoro Peace Process. We remain at the disposal of the parties for further activities. In light of the increased vulnerability and exposure to climate change, Switzerland draws from its own expertise in addressing inherent threats of landslides and avalanches, to partner with the Philippines in preparing for calamities and increase resilience of the affected population. I'd like to commend our partners in Government, private sector and civil society for the important work accomplished and I personally look forward to many projects and endeavors to further our relationship.
One further aspect of paramount importance are the people-to-people ties and cultural relations. About 3500 citizen, among them many double nationals, call the Philippines their home. I look forward to meeting many of them and to join them in their manifold activities bridging the two nations and peoples.
I invite you to consult our website and to like our Facebook page to can learn more about our consular and administrative services, Embassy activities, how to apply for a tourist visa and find our contact details for specific questions and inquiries. We are gladly at your disposal.
Maraming salamat po at Mabuhay!
Alain Gaschen
Ambassador