Embassy of Switzerland in Ghana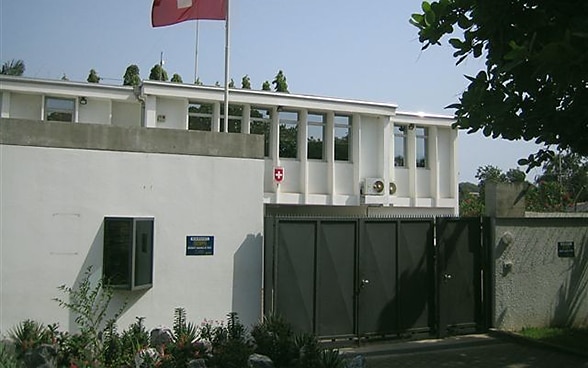 About the Embassy of Switzerland in Accra
As the official representation of Switzerland, the Embassy covers all matters concerning diplomatic relations between the two countries. It represents Swiss interests in the areas of political, economic, financial and legal affairs, as well as science, education and culture.
Visits via appointment only
You are requested to make an appointment before visiting the Embassy by e-mail: accra@eda.admin.ch or by phone: 0302 228 125. Thank you for your understanding.
Coronavirus - Urgent notice
Ghana and Togo have closed all Land, Air and Sea borders. For Ghana, these closures do not affect cargo and goods.
Swiss travellers abroad should register on the "Travel Admin App"
The Federal Council is calling on Swiss travellers to return home quickly. In order to better support those who are still blocked abroad, they should register on the "Travel Admin App" of the Federal Department of Foreign Affairs FDFA.
Please find further information here
Prohibition on entry
On 18 March 2020, the Swiss Federal Council decided, that entry at the Schengen external borders is generally prohibited with few exceptions. Switzerland follows the practice of the other Schengen states. Until 15th June 2020, Switzerland will also no longer issue Schengen visas. National visas will also only be issued in exceptional cases, for example to family members of Swiss citizens with a right of presence in Switzerland who require a visa and to specialists from the health sector.
For additional information, please consult the webpage of the State Secretariat for Migration SEM.
Togo and Benin
The French authorities have confirmed that the representation agreement for Schengen visas has been suspended. Therefore visa applicants from Togo and Benin can no longer submit their files to the French embassies in Lomé and Cotonou nor with the Swiss Embassy in Accra or via VFS Global.
Belgium
It is no longer possible to obtain a visa from the Swiss Embassy in Accra or via VFS Global.
Visa questions for Belgium should be addressed to the Belgian Embassy in Abidjan.
Suspension of civil status matters
Due to the ongoing COVID 19 situation, the Swiss Embassy in Accra would like to communicate, that the Civil Status Offices in Switzerland have temporarily suspended the treatment of civil status cases coming from abroad since 18 March 2020. Therefore and also with respect to the instructions of the government of Ghana concerning social distancing and hygiene measures at public offices  we would like to inform the public, that the Embassy will not receive any clients with civil status cases from Ghana, Togo and Benin (Tuesday mornings or any other day of the week). This measures are valid until further notice.
For questions concerning civil status cases, please contact the Embassy by e-mail: accra@eda.admin.ch
Important notice: Swiss in Ghana, Benin and Togo
Please see important travel advice for the following countries:
Novel Coronavirus
For information related to the Novel Coronavirus (COVID-19) kindly consult the information and directives of the local authorities (for Ghana Hotline tel. 055 2222 004, 055 2222 005, 050 9497 700, 027 737 14 06 and 024 078 62 63) and the recommendations of the World Health Organization WHO
In Togo: 111, +228 2222 2073 or +228 9167 4242.
In Benin: 95 36 11 07, 51 02 00 00, 51 04 00 00.
In São Tomé et Príncipe : +239 2224 808 or e-mail : conprec@hotmail.com / saude@ms.gov.st
On state level, the Federal Office of Public Health of Switzerland FOPH informs in regards to the Novel Coronavirus and publishes travel advice accordingly.
The Travel Advice FDFA (in German, French and Italian) offers travelers basic information for travel preparation by informing on possible risks and certain precautions. They are to be considered as a complementary source of information.
For urgent requests, kindly contact the Helpline FDFA, (Tel. +41 800 24-7-365 / +41 58 465 33 33 ) or contact the Embassy of Switzerland in Accra
Visa for Latvia
Latvia - State of Emergency
The Government of the Republic of Latvia has declared a State of Emergency throughout the country from 13 March 2020 to 14 April 2020 to restrict the spread of COVID-19. While the State of Emergency is in effect, an external border with Russia and Belarus will be closed for foreign nationals entering Latvia from 17 March 2020 until 14 April 2020. All international flights, busses, ferries and trains are suspended from 17 March 2020 until 14 April 2020, therefore visa issuance for travellers to Latvia is suspended for the period of declared State of Emergency.