Embassy of Switzerland in Egypt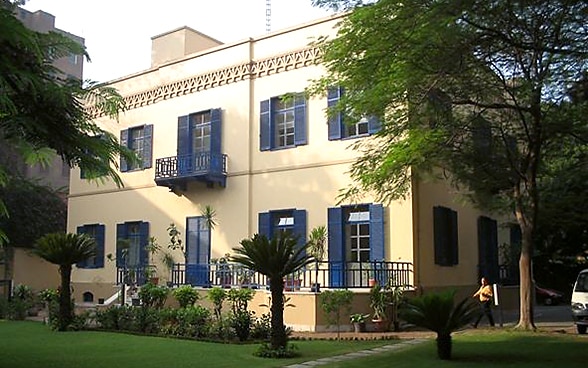 As the official representation of Switzerland, the Embassy covers all matters concerning diplomatic relations between the two countries. It represents Swiss interests in the areas of political, economic, financial and legal affairs, as well as science, education and culture.
Important information from the Embassy
The development of the situation in Israel and the occupied Palestinian territories is uncertain and can change rapidly. A deterioration of the security situation in the entire region cannot be ruled out. The FDFA is following the situation in the region very closely.
Please observe the FDFA's travel advice and also inform yourself independently about the current situation and follow the instructions of the local authorities. The decision to leave a crisis region is made voluntarily, at your own risk and at your own expense. In the event of a deterioration of the situation, Switzerland may have no or only limited possibilities to help in emergencies or to support the departure.
In order to ensure communication, it is important that you keep your contact and travel data up to date on Travel Admin or at the Swiss representation where you are registered. Swiss citizens living abroad can use the FDFA's online desk for this purpose. In case of emergency, affected persons can contact the FDFA helpline: Tel. +41 800 24 7 365 or 0 800 24 7 365.
SUDAN
Suspended consular services in Khartoum
As a result of the armed conflicts in Sudan, the Swiss Embassy in Khartoum remains closed.

From 1 July 2023, the Swiss Embassy in Nairobi (Kenya) will temporarily take over consular services (Swiss abroad, entry and residence visas, preparation of marriage in Switzerland, etc.) for applicants living in Eritrea and Sudan. Therefore, persons from Sudan and Eritrea who wish to avail themselves for Swiss consular services, are requested to contact the Swiss Embassy in Nairobi from this date onwards.
Please contact the FDFA Helpline in case of emergency: helpline@eda.admin.ch or +41 800 24 7 365 or +41 58 465 33 33.
Consular Section
Operations demanding personal presence at the Embassy consular counters will be available on appointment only. Inquiries and appointment requests can be submitted via e-mail to cairo@eda.admin.ch.
Visa Section
Kindly find more information on the page Visa – Entry to and residence in Switzerland
The visa section is currently experiencing an extremely high numbers of visa applications and inquiries for an earlier appointment at our external visa provider, VFS Global. Therefore those inquiries will not be answered, unless it's an urgent and important case. Inquiries about the status of the visa application registered in our visa system will not be answered. Thank you for your understanding.
Travel Admin App
The FDFA calls on all Swiss nationals travelling abroad to register on the "Travel Admin App" in order to keep up to date with the latest developments in the country of their current stay. All those who have already returned to Switzerland should delete their travel registration.
COVID-19, travel regulations to enter Egypt
As of June 17th 2022, all restrictions related to the Corona Pandamic are lifted for Egyptians and Foreigners entering Egypt.
Visa
Visa required.
Visa Issuance
E-visas can be obtained before departure at Electronic Visa Portal. Passengers must have a printed e-visa confirmation.
Nationals of Switzerland with a normal passport can obtain a visa on arrival for a maximum stay of 30 days. They can apply to extend their stay.
Check Iata Travel Center before traveling