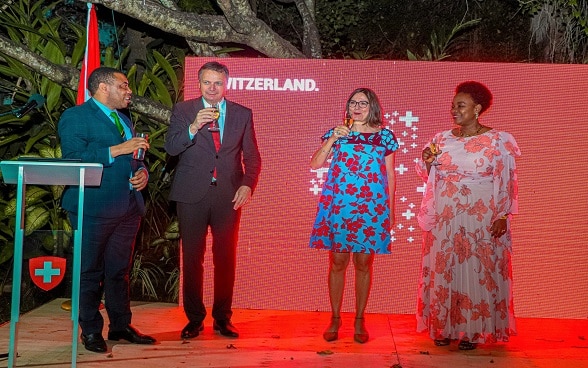 More than 300 guests, including the Swiss community, representatives from public and private sectors, civil society, international organisations and diplomatic missions, and from areas as varied as art, media and the sciences, attended the celebration.
In their respective remarks, the Swiss Ambassador and Finance Minister Hon. Dr. Mwigulu Nchemba highlighted the many areas of cooperation and very good relations between the two countries. "We are proud and grateful for this partnership which has contributed to improving the lives of millions of Tanzanians," said the Ambassador. Minister Nchemba commended Switzerland for its continued support to Tanzania as a development partner and, increasingly, as a trade and economic partner.
Since 1891, the first of August has been celebrated as the Swiss National Day. The date refers to a historic alliance concluded in 1291 by the three cantons of Uri, Schwyz and Unterwalden. The cantons joined together and signed the Federal Charter that founded the Swiss Confederation. This year, Switzerland also celebrates the 175th anniversary of the Swiss Federal Constitution, which was founded in 1848.