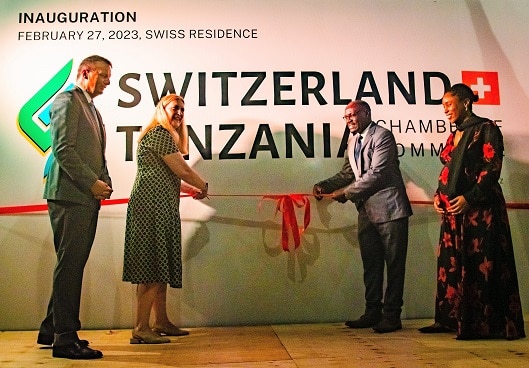 The celebratory event, hosted by the Ambassador of Switzerland to Tanzania Didier Chassot, brought together more than 120 business personalities, private sector representatives and diplomats. In his opening remarks, Ambassador Chassot said the main objective of the STCC is to promote economic cooperation and opportunities between Switzerland and Tanzania.
In her address, State Secretary Budliger Artieda expressed hope that the STCC will act as a gateway for Swiss and Tanzanian businesses to further catalyze investments to Tanzania and advance economic relations. 'The creation of the Chamber is a sign of trust in Tanzania's future. The STCC will be a platform for organisations to connect and exchange, develop business and investment opportunities, and build and maintain economic bonds between our two countries,' she said.
Representing the STCC founding members, Ms. Amne Suedi Kagasheki appreciated the efforts of the Embassy of Switzerland in facilitating the creation of the Chamber as well as hosting the formal launch. She highlighted the benefits of being a member of such an association and encouraged other businesspersons and businesses to join the network.
Deputy Minister Kigahe honoured the STCC with an inspiring address underlining the economic relevance of the association. He pointed out that Tanzania is a good place for investment and is convinced Tanzania's commercial bonds with Switzerland have a promising future.
The seven founding members of the STCC are Duku Telecoms and Electronics, Life Forestry Group, Mbeya Cement, MSC, Oryx Energies, Shikana Group and SICPA.
Switzerland and Tanzania have a long history of mutually fruitful collaboration with people-to-people relations dating back nearly 100 years. Over the decades, the two countries have developed strong partnerships through political exchanges, and development and economic cooperation.