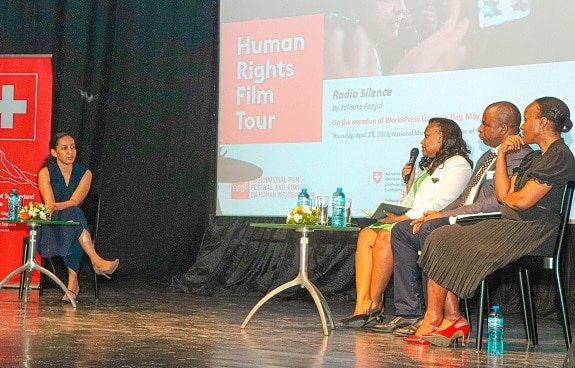 The event was part of the Human Rights Film Tour 2023, a joint initiative by the Swiss Federal Department of Foreign Affairs (FDFA) and the Geneva International Film Festival and Forum on Human Rights (FIFDH), marking the 75th anniversary of the Universal Declaration of Human Rights.
The documentary film 'Radio Silence', by Juliana Fanjul, tells the story of Carmen Aristegui, a courageous journalist who exposes corruption and human rights violations in Mexico, despite facing threats, censorship and harassment. It highlights the importance of freedom of information and expression, and independent media for any functioning democracy.
In Tanzania, Switzerland aims at promoting a vibrant and diverse media landscape that informs and empowers citizens. Together with its partners and key stakeholders, Switzerland has been for many years supporting efforts to improve the quality and credibility of journalism, to promote gender equality in the media and to adopt innovative approaches that can increase the financial viability and editorial independence of journalists.
'Switzerland is committed to supporting media development in Tanzania as we believe that a free, diverse and pluralistic media sector is essential for democracy, development and dialogue,' said Swiss Ambassador Didier Chassot in his opening remarks. 'We welcome the recent positive developments in that regard, but I would like to call for continued dialogue and cooperation among the government, the media, the ICT sector and other stakeholders to create an even more conducive environment for the press, where freedom of expression, access to information and media diversity are respected and promoted.'
The event was attended by about 130 people including university students, diplomats, civil society, representatives of local and international NGOs, and partners.