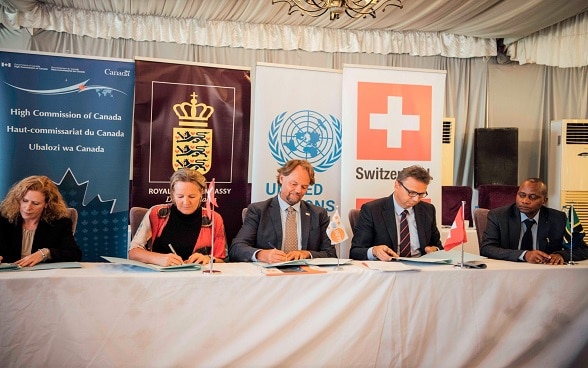 The Health Basket Fund is a collaboration between the Government of Tanzania and the Seven Development Partners and aims to improve the health status of the Tanzanian population by strengthening health systems for the provision of quality health care services. In this Side Agreement, the Development Partners have pledged a total of USD 42.2 million (approximately TZS 98 billion) for the current Fiscal Year (2022/2023) to contribute to the implementation of the central, regional and health facilities plans. The funds will cover costs related to procurement of medicines, medical equipment and supplies and improvements to the delivery of quality health care to the Tanzanian population.
Since its inception in 1999, over USD 1.2 billion (approximately TZS 2.8 trillion) has been disbursed through this pooled funding mechanism to contribute to the implementation of the Health Sector Strategic Plans.
Since 2017, funds are now disbursed directly to all the public primary health care facilities (over 7,000 health facilities to date), making the HBF one of the most reliable source of external funding available at the health facilities. Direct Health Facility Financing (DHFF) has increased the autonomy and accountability of the health facilities in managing and reporting on the use of funds disbursed to them. They can now plan by prioritizing their needs. DHFF has also enhanced community engagement through the Health Facility Governing Committees, in directly overseeing facility planning and budgeting and holding health care providers accountable for the quality of the services provided.
Overall, the HBF has contributed to a number of impressive service delivery results over the years, including: increased number of women accessing antenatal care, increased number of babies delivered by a skilled birth attendant, and increased access to services, including emergency obstetric and newborn care.