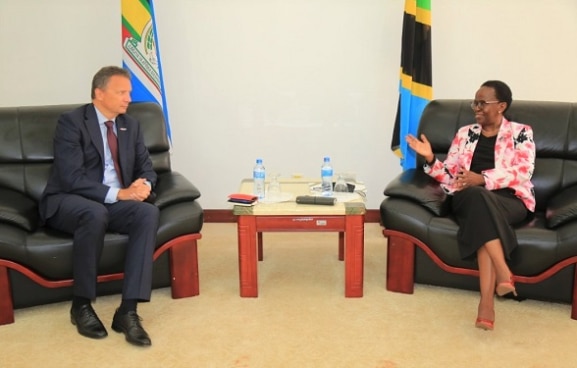 Switzerland and Tanzania have maintained longstanding, friendly and stable diplomatic relations for over 55 years. In 2021, Switzerland celebrates 40 years of development cooperation with Tanzania. During the meeting, Ambassador Chassot elaborated on the recently launched Swiss Cooperation Programme Tanzania 2021-2024, covering the areas of health, governance, and employment and income.
Both sides exchanged views on recent developments in Tanzania, including health challenges in response to COVID-19, the business environment, and regional matters such as peace and stability in the Great Lakes region and Tanzania's border security. The Minister acknowledged Switzerland's international role in humanitarian and human rights issues as well as in peacebuilding efforts, for instance in Burundi..

Ambassador Mulamula expressed her gratitude to Switzerland for its support in various fields of cooperation, particularly in the health sector. The Minister commended Switzerland for its support to the Ifakara Health Institute, in the fight against Malaria and to the Health Basket Fund (HBF), which aims to strengthen health institutions in Tanzania.

Ambassador Chassot was accompanied by the Head of Cooperation Mr. Leo Näscher and political Attachée Victoria Zelger.