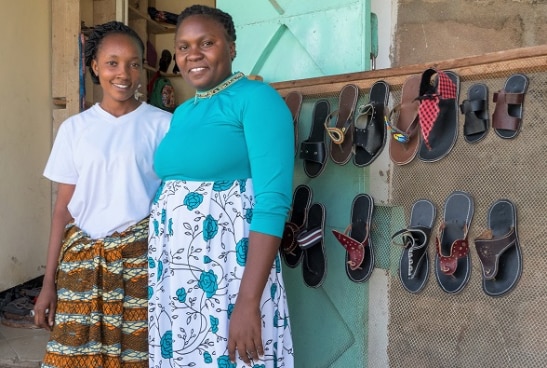 Over the next three years the OYE project will support over 4,250 young men and women to enter employment or self-employment by establishing a business. Phase II of the project uses a market-based approach where youth receive training in life and business skills and then get matched with an employment opportunity where they learn the practical skills needed to be successful. Coaching is provided to the trainees to guide them in their chosen career paths. They will also be supported to establish youth saving and lending associations (YSLAs) where participants learn to manage their income, save money, pool their profit and provide loans to members for business investment.
Speaking at the event, Country Director of SNV Tanzania Duncan Rhind said "SNV uses the Push:Match:Pull approach to ensure that youth are equipped to match the needs of the market. This approach has been proven both in Tanzania and elsewhere in the region to ensure that the youth that we work with have the skills that they need to enter and stay in sustainable employment and self-employment."
OYE is implemented in partnership with local service providers, Local Government Authorities (LGAs), financial service providers and the private sector. These partnerships ensure that the means of support for youth become embedded in the local systems and institutions which will ensure the sustainability of the project. OYE will help over 4,250 youth in Singida and Morogoro Regions to enter into sustainable employment and self-employment, especially in the areas of horticulture, renewable energy and a number of intervention areas with high potential markets. Recognising the challenges that young women face in the labour market, the project will have a particular focus on ensuring that women are equipped and able to avail themselves of employment opportunities.
"Switzerland is committed to support skills development in Tanzania and continues to increase its engagement in youth employment," said the Ambassador of Switzerland Didier Chassot. "Providing young people, especially young women, with the necessary skills needed to enter the marketplace is key in addressing youth unemployment and inclusive economic growth."
The Danish Ambassador Mette Nørgaard Dissing-Spandet added "We need to focus on realising the great potential of youth in Tanzania. Therefore, the Danish Embassy is proud to support the second phase of the Opportunities for Youth Employment implemented by SNV. We fully support the efforts to empower young women and men by enhancing their skills, creating opportunities and promoting green jobs to make a difference in their lives."
OYE Phase II is jointly supported by the Embassy of Switzerland and the Embassy of Denmark and builds on over five years of support in this sector by SNV in Tanzania also supported by the Embassy of Switzerland. It also draws on the experience of SNV implementing similar youth employment programmes in a number of other countries including Mozambique, Rwanda, Kenya, Ethiopia, Uganda, Mali, Niger and in southern Africa - in Zimbabwe and Zambia.
The project was officially launched at an online ceremony by guest of honour Eliakim Mtawa, Assistant Director - Coordination & Mobilisation, Prime Minister's Office, Labour, Youth, Employment and Persons with Disability.