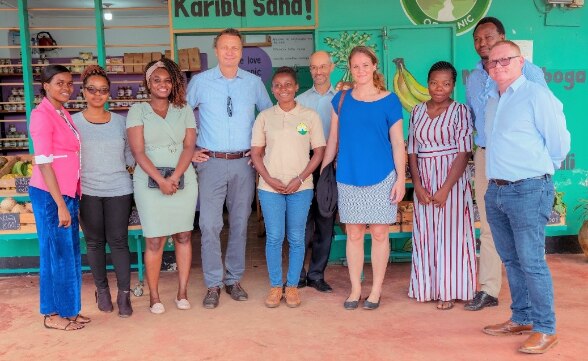 Launched in 2019, the SET programme seeks to improve youth self-employment through actively contributing to vocational skills development. SET is focused on improving the livelihoods of youth, with a specific focus on young women and mothers, to access relevant vocational training courses that can provided tangible opportunities for meaningful employment.
During the visit, Swisscontact provided an update on the implementation of the project and facilitated exchanges with other implementing partners and project beneficiaries. The delegation met with two implementing partners - Sustainable Agriculture Tanzania (SAT) and Sokoine University Graduate Entrepreneurs Cooperative (SUGECO). SAT is a leading member of the Training Providers Platform and the chair of the Agricultural Skills Development Consortium (ASDC). The two platforms are supported by the SET project to hold constructive discussions and create innovations that will improve the Technical Vocational Education and Training (TVET) system in Tanzania. SUGECO, also a member of the ASDC stakeholder platform, is a cooperative working closely with SET to develop a curriculum in beekeeping, entrepreneurship and innovation.
A highlight of the tour was the visit to SAT and SUGECO on-site demonstrations plots, training facilities as well as incubation and processing centres. As gender transformation and inclusion are key to the project, the team also met and had in-depth discussions with the SET gender expert Victoria Nkuba and two female trainers, Rachel Macha and Elizabeth Parata.
Switzerland will contribute 24 million US Dollars (approximately 55 billion Tanzanian Shillings) over a period of 12 years to support the Government of Tanzania in addressing the labour market relevance, quality and accessibility of vocational skills development. Switzerland and Tanzania commemorate the 40th anniversary of development cooperation this year.