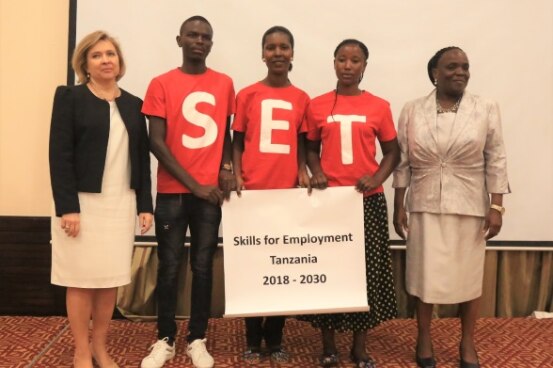 According to a report by ILO, 82% of Tanzania's young people find themselves in vulnerable employment. This figure rises to 86% when referring to young women. Three quarters of youth employment is currently in agriculture. Youth and women participation in agriculture is concentrated in informal, low-skilled and low value activities.
Vocational skills development (VSD) can make an important contribution towards reducing poverty. It seeks to equip youth with the practical skills and qualifications needed to compete in today's world of work. VSD has been an important part of Switzerland's development cooperation efforts for over 60 years. Switzerland's dual system of vocational education and training is widely known to be a key factor of Switzerland's own economic success. In the Swiss system, both the public and private sector play an active role, with vocational schools providing the needed theoretical training and the enterprises with practical skills. This ensures that demand for specific qualifications in the labour market are met thus the low unemployment rate.
The SET programme, which will be implemented by Swisscontact, is aligned to the Tanzania's National Skills Development Strategy (NSDS 2016-2026). The strategy aims to strengthen the national capacity of the VSD system and promote labour-market-driven skills development opportunities. SET will improve prospects of gainful youth employment and self-employment through a contribution to improved access, relevance and quality of VSD.
SET targets youth between 15 and 24 years, in particular those who cannot access the formal VSD system as well as young women, including young mothers. The programme will work closely with the Vocational Training and Education Authority (VETA), the Tanzanian Private Sector Foundation (TPSF), local organisations, the Morogoro Vocational Teachers and Training College (MVTTC), training institutions (both public and private) and other stakeholders to create more opportunities in agriculture and agri-business, which are among key economic sectors. At least 16,000 young people, mostly women, are expected to benefit from the SET programme.
SET was officially launched by the Ambassador of Switzerland to Tanzania, H.E. Florence Tinguely Mattli and the Minister of Education, Science and Technology, Hon. Prof. Joyce Ndalichako at an event which aimed at putting a spotlight on VSD in Tanzania. The event included a keynote presentation by Professor Samuel Wangwe on 'The role of TVET (Technical and Vocational Education and Training) institutions in fostering development and industrialisation'; a panel discussion on 'Innovative and Inclusive initiatives on vocational skills development and youth employment' and testimonials from selected youth.
Switzerland has provided official development assistance to Tanzania since 1981 and continues to provide around USD 22 million in direct assistance annually, covering the health, employment and income, and governance sectors.