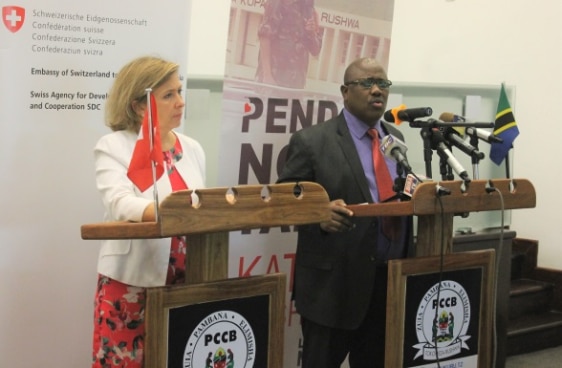 Since its world premiere in July 2018 at the Zanzibar International Film Festival, Bahasha has been viewed by tens of thousands of Tanzanians in movie theatres; on DVD; through social media (YouTube); and at special screenings - in Dar es Salaam to various stakeholders and in Dodoma to Members of Parliament at the Bunge last year in September. The movie is also now available to travellers across Africa as part of Ethiopian Airlines in-flight programme on selected flights. 
Including Bahasha as part of the 2019 Uhuru Torch will provide an opportunity for many more people to see this Tanzanian movie. Switzerland is therefore very proud to support the PCCB in bringing the film "to the people" across the country and spreading the important message that fighting corruption is a task of every one at every level. 
By supporting the making of the film and its dissemination, Switzerland believes it can make an important contribution to the fight against corruption in Tanzania. Bahasha is complementing a technical assistance programme of roughly USD 750'000 per year with which the Swiss Government is supporting the PCCB's prosecution capacities. Switzerland is also supporting media and civil society to strengthen accountability and transparency around the use of public funds. In her remarks, Ambassador Florence Tinguely Mattli noted that the fight against corruption can only be successful if there is a strong political will and action, supported by all actors of the society: citizen, media and civil society.