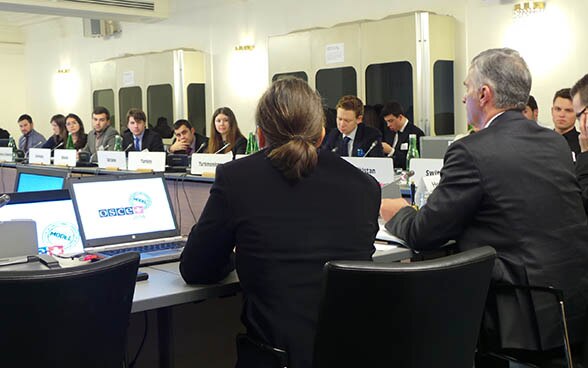 The first simulation is hold to coincide with the official opening of the Swiss Chairmanship. The Youth Ambassadors kick-off negotiations on their Youth Action Plan and discuss topics they believe should be covered by an OSCE Youth Action Plan.

The Youth Ambassadors negotiate in two different formats – the informal meetings are hold in small groups while the preparatory committees takes place in plenary meetings. The event in Vienna is brought to a close by a simulated Model OSCE Permanent Council.

In addition to negotiating their Youth Action Plan the Youth Ambassadors are given the opportunity to meet with the OSCE Chairperson-in-Office, Didier Burkhalter, Secretary General Lamberto Zannier, and several Heads of Field Operations. They also have the possibility to discuss issues affecting young people with other high-level OSCE representatives.

The Youth Ambassadors want to continue their negotiations on the Model OSCE Youth Action Plan in Belgrade in July 2014.
Speech by the President of the Confederation Didier Burkhalter: "Politics is not just about today. It is also, and most importantly, about tomorrow." (PDF, Seiten 5, 52.7 kB) (PDF, Страницы 5, 52.7 kB)