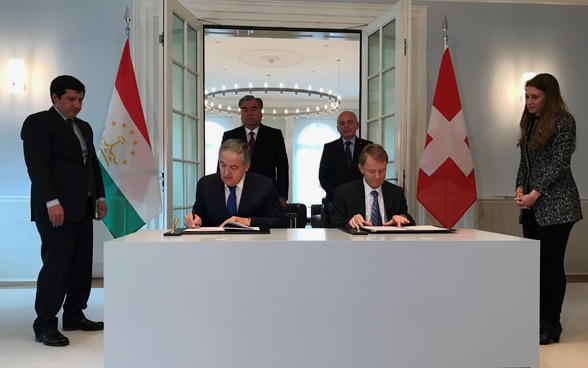 Tajikistan is a member of the Swiss-led voting constituency in the IMF, the World Bank and the Global Environment Facility (GEF). Consequently, the memorandum of understanding on the Belt and Road Initiative (BRI) signed by Switzerland in Beijing in the spring is of great interest to Tajikistan. Switzerland is keen to see that third countries such as Tajikistan are integrated into BRI projects.
While political relations and technical cooperation between the two countries are well established, economic exchanges have only gained momentum in recent years. Both sides commended recent developments and addressed ways of exploiting the existing potential. Mr Maurer congratulated Tajikistan on the steps it has taken towards government reforms, and stressed the importance of the rule of law in establishing a favourable investment climate. Tajikistan is one of Switzerland's priority countries in terms of development cooperation in Central Asia. The Swiss Agency for Development and Cooperation (SDC) and the State Secretariat for Economic Affairs (SECO) have around CHF 20 million a year at their disposal within the framework of their cooperation strategy for the period 2017-2021. One of the main topics during the talks was regional water management, which is considered as the key to development in Central Asia. Switzerland has played an active part in this field for 25 years.
The delegations emphasised the good level of cooperation in the various voting constituencies, as well as in the Organization for Security and Cooperation in Europe (OSCE), the WTO and the UN. Political and economic developments in Central Asia were among further topics addressed. President Maurer and President Rahmon were present at the signing of two memorandums of understating on cooperation in water management and on climate change. The agreements were signed on the Swiss-side by SDC Director Manuel Sager.
On the fringes of the official working visit, a meeting also took place between Federal Councillor Ignazio Cassis and Tajikistan's Foreign Minister Sirodjiddin Muhriddin. The main themes of the discussions were international cooperation and human rights.
---
Further information:
Bilateral relations between Switzerland and Tajikistan
Development and Cooperation: Central Asia
Download and use footage from the SRG SSR TV pool for free (valid for up to 30 days after visiting the site)

---
Address for enquiries:
Peter Minder, Head of FDF Communications
Tel. +41 79 437 73 61, peter.minder@gs-efd.admin.ch
---
Publisher: